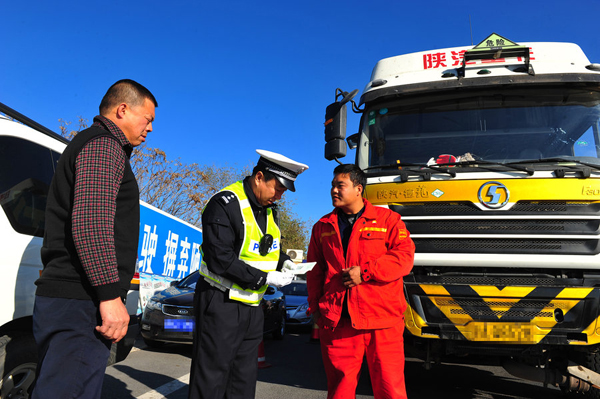 A traffic police office questions a truck driver at a checkpoint in Beijing, Nov 13, 2014. [Photo/CFP]
DRIVERS IN NANJING, capital city of East China's Jiangsu province, may face a fine of 2,000 yuan ($313) if their cars are dirty or covered by disturbing advertisements, according to revised local regulations on the city environment. Exceptions will be made for rain or snow, the draft says. China Youth Daily questions the authority and feasibility of such rules, which should be made on the basis of extensive public opinions and discussions, not the whims of a few officials.
Putting aside for the moment, whether the Nanjing municipal government is allowed to impose a fine on owners if their cars are dirty, it is also worth noting that the vaguely defined "city environment" hardly serves as solid ground for imposing punishments.
Admittedly, no one should seek to challenge the dignity of the law for whatever purpose. But the fact is, there is always something that cannot be dealt with simply going by the book, and the authority of a law might be affected if there is too much room for interpretation in the first place.
In other words, the legislators can never be too careful in making binding rules and regulations that the public should abide by, that is, public opinions and objective evaluations must be conducted before a law comes into effect. The Nanjing government's top-down enactment of "dirty car fines" is unlikely to work as intended because it fails to uphold fairness and justice in reality.
As a country ruled by law, there must be laws to go by and the laws must be strictly enforced. The country has abundant laws and regulations for social governance, but enforcement has far lagged behind many modern states, as many laws are rarely observed. Therefore, legislation should be enforceable; otherwise the rule of law will have little effect on people's lives.