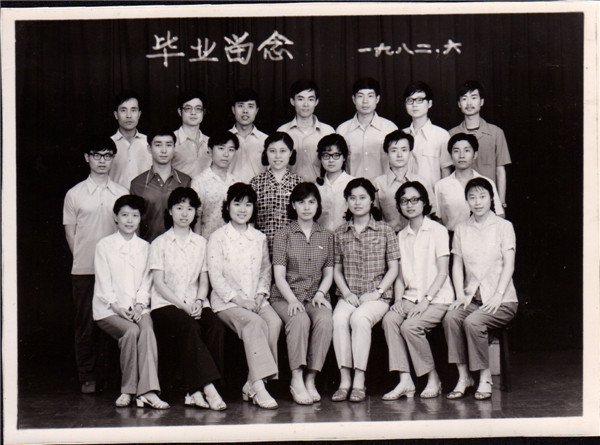 The graduation photo of Class 2, the small class I was in. [Photo provided to China Daily]
I was not yet 16 when I first met them, and in the four ensuing years they became the elder sisters and brothers I never had.
I'm talking about my undergraduate class, which reconvened last weekend after a separation of 33 years.
"The Class of 78", as we call it in Chinese, is a misnomer. It refers to the year we entered college rather than the one we graduated. Well, we actually do have another word for the English equivalent, which is jie and tends to be mixed up with ji. Anyway, the correct translation should be "the Class of 82", but I'll use "78 Ji" in this column to avoid confusion and also as a shorthand for "the freshmen class of 78".
The "78 Ji" of the Foreign Languages Department of Hangzhou University, now part of the more prestigious Zhejiang University, had an enrollment of about 250 students. A third of us have since emigrated overseas, possibly facilitated by our language ability.
As the reunion was arranged at short notice and did not fall on a holiday such as Christmas, those outside China, with two exceptions, were unable to join us. But they had mini-reunions of their own. The party in Bayside, New York, seemed big enough to fill a house.