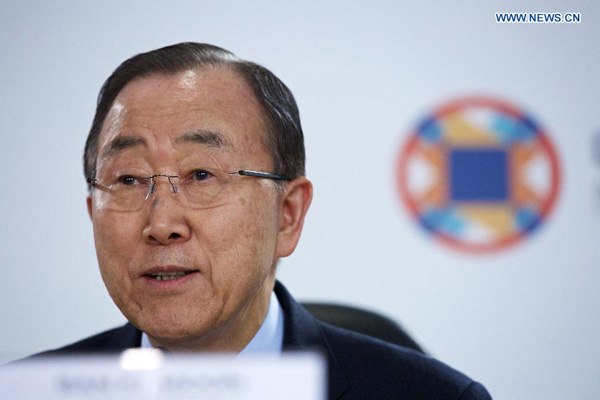 United Nations Secretary General Ban Ki-moon attends a press conference after the Climate Action Special Executive Session at the Commonwealth Heads of Government Meeting (CHOGM) in Mellieha, Malta, Nov. 27, 2015. [Photo/Agencies]
Ask anyone for their abiding memory of 2015 and they will most likely recall a negative one.
Some will recall the horrifying stories of death and destruction caused by conflicts around the world, most notably in Syria where more than 250,000 people have lost their lives and almost 11 million people have been displaced. Others will recall a sense of grief, fear and anger after violent extremists attacked, tortured, kidnapped and executed innocent civilians around the world. Still others might recall a simple but disturbing fact they heard in passing - that 2015 was the hottest year on record or that more than 15,000 children continue to die annually, mostly from preventable diseases.
Yet despite all of this, 2015 was also a year of progress and breakthroughs.
It was, for instance, when health workers and public officials supported by the international community brought an end to the Ebola epidemic in Sierra Leone, Liberia and Guinea. It was the year when the UN Millennium Development Goals expired, having helped reduce the number of people living in extreme poverty globally by more than 50 percent. And it was the year when talks not tanks led to improvements in Cuba-US relations, an Iranian nuclear deal, a breakthrough in peace talks in Colombia and transition in the Central African Republic. And most recently, a road map on resolving the Syrian conflict was agreed on in the United Nations Security Council; the hope is that finally we can begin to contain this horrible humanitarian disaster.
In September, world leaders descended on New York to embrace a new compact for people and planet anchored in 17 Sustainable Development Goals. In Addis Ababa, just two months earlier, the same leaders committed to a new global framework on finance, capacity building, technology, trade, debt and other issues to support the realization of these goals. And in Paris earlier this month, after years of disappointment, they overcame divisions and agreed on how to avert catastrophic climate change while advancing human progress.
Through these agreements, governments everywhere have committed to advance three critical transformations in our world. First, they committed to address the root causes of poverty and hunger and to advance human development and gender equality everywhere. Second, they agreed to promote shared prosperity while transitioning to a low-carbon climate-resilient economy and protecting our natural environment. And, third, they agreed to improve governance at all levels so as to build more peaceful, just and inclusive societies.