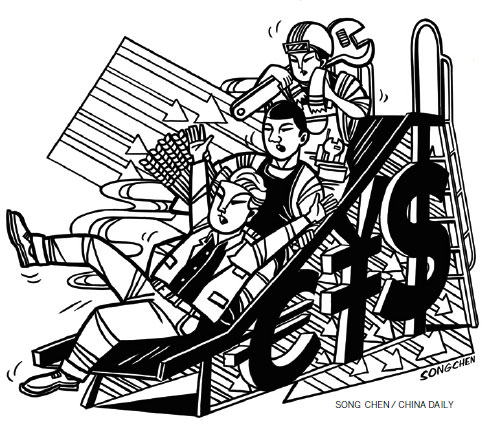 The ongoing global economic slowdown, which began in 2008 with the financial crisis in the United States, could set a new endurance record.
This "persistent recession," as well as some of the world's political conflicts, are manifestations of a deeper shift in the global economy - a shift driven by two kinds of innovations: labor-saving and labor-linking.
Although laborsaving innovation has been with us for a long time, the pace has picked up. Global sales of industrial robots, for example, reached 225,000 in 2014, up 27 percent year on year. More trans formative, however, is the rise of "labor-linking" technology: digital innovations over the last three decades now enable people to work for employers and firms in different countries, without having to migrate.
These changes are captured by a remarkable statistical trend in high- and middle-income countries. Total labor income as a percentage of GDP is declining across the board and at rates rarely witnessed. From 1995 to 2015, labor income dropped from 61 percent to 57 percent of GDP in the US; from 66 percent to 54 percent in Australia; from 61 percent to 55 percent in Canada; from 77 percent to 60 percent in Japan; and from 43 percent to 34 percent in Turkey.
For emerging economies, the challenge of laborsaving innovation is mitigated in the medium term by labor-linking technologies. Emerging economies with cheap labor that can organize themselves well enough to provide basic infrastructure and security can benefit greatly from this global structural change.
We see this in the numbers. In 1990, just 5 percent of the Fortune 500 corporations were from emerging economies; now 26 percent are.
Chinese corporations feature prominently on the list. India's information technology sector has taken off since the 1990s, lifting the entire economy's growth rate. With business in 35 countries, Malaysia's Petronas, founded in 1974, is now described as one of the new "seven sisters" - energy companies that dominate the global market.
To be sure, several emerging economies are beset by corruption and falling commodity prices; Brazil, where GDP is expected to contract by around 3 percent in 2015, is a prime example. Nonetheless, the only countries' recording high rates of annual GDP growth are emerging economies, including Vietnam (6.5 percent), India, China, Bangladesh, and Rwanda (around 7 percent), and Ethiopia (over 9 percent).