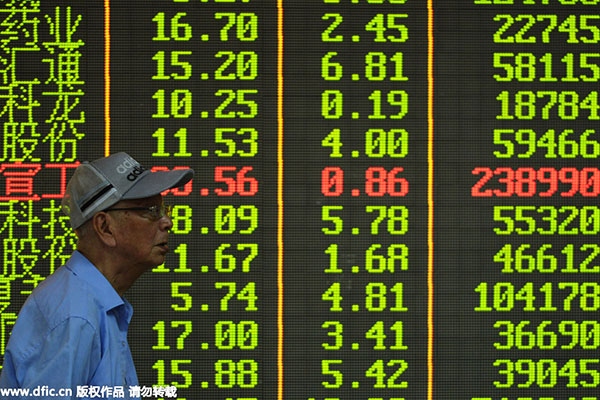 A Chinese investor walks past a screen displaying prices of shares at a stock brokerage house in Hangzhou city, East China's Zhejiang province, August 20, 2015. [Photo/IC]
The continuing turbulence in the global financial markets is, to some extent, reminiscent of the sentiments during the financial crisis seven years ago. But it would still be premature to predict the recurrence of a major global crisis.
Despite the slumps in the stock markets of many countries, the global economic situation is improving, albeit slowly. The US economy is leading the world, recovering steadily, with such indicators as the inflation rate, jobless rate and corporate profitability all on the mend.
In Europe, the spreading risk of the sovereign debt crisis has been kept under control after eurozone leaders reached a provisional agreement on a third bailout plan for Greece in July. Although that is still subject to ratification in some national parliaments, the situation has undoubtedly eased.
Meanwhile, China's slowing economy is causing concern, as its economic growth has slowed with the unfolding of its restructuring and reform plans, and its manufacturing and export sectors are facing great downward pressures. However, its annual growth remains at about 7 percent, much higher than other major economies, and the service sector has remained resilient, offsetting the impact of the contraction in manufacturing and exports.
More importantly, backed by its ample foreign exchange reserves, China has adequate ammunition to prevent the domestic situation from worsening.
Given the largely sound fundamentals of the global economy, it is more than possible that the global financial markets have overreacted like a burnt child fearing the fire.
Admittedly, investors worldwide are justified in remaining cautious as they prepare for the upcoming uncertainties of an expected US Federal Reserve hike in interest rates next month.
The predicted move has been hanging like the Sword of Damocles over the heads of global investors since last year. When it happens, it will drive colossal amounts of capital from the emerging markets to the US and cause major shocks to the global financial markets.
Worse, in preparing for the possible chain reaction that will follow the Fed's move, the economies elsewhere will have to adjust their domestic policies to preempt the potentially damaging consequences and try to prevent it from affecting their economic and financial stability, thus further complicating the situation and causing more uncertainties.
To stabilize the global markets, it is urgent that global policymakers join hands and take concerted steps when they devise macroeconomic policies. They must increase information sharing and communicate with each other to keep one strong power's policy from beggaring others.