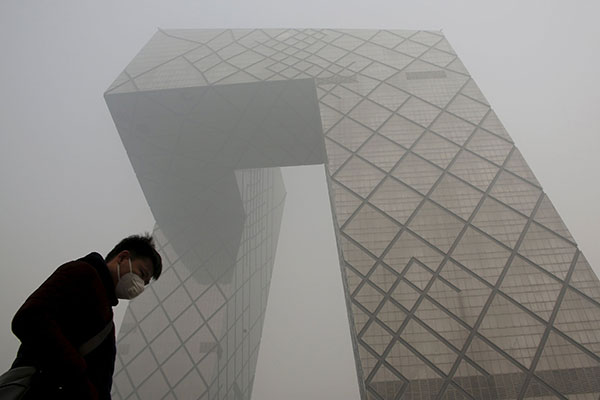 Smog shrouds the China Central Television building in Beijing on Monday, when severe air quality prompted the capital to order polluting industries to suspend production. KIM KYUNG-HOON/REUTERS
Never has Beijing been shrouded in such apocalyptic smog.
The particulate matter with a diameter of less than 2.5 microns has reached more than 1,000 micrograms per cubic meter in some areas.
No one should doubt that such serious air pollution will stifle the dynamic of the capital in many ways if it continues. Fortunately, it will hopefully disperse with the coming of wind from Wednesday on.
Despite the fact that many Beijing residents have reconciled themselves to the harsh reality by wearing masks when going out and using air purifiers at home, the municipal government cannot shirk its responsibility to do whatever it can to mitigate as much as possible the harm the smog may cause to residents' health.
One question many are asking is why the municipal government issued an orange alert instead of a red alert, which would require the use of emergency measures to reduce the number of motor vehicles on the capital's roads by half, including 30 percent of government motor vehicles, as well as the closure of kindergartens, primary and middle schools.
It may be because such serious air pollution has not yet lasted for 72 hours, one of the requirements for the issuance of a red alert. Yet the smog is serious enough to be a risk to health and warrants children staying at home. And a reduction in the number of vehicles on the roads would help reduce the exhaust emissions that contribute to the extremely poor air quality.
The seriousness of the air pollution deserves more than what the municipal government has done to reduce the severity of the smog. People's health should deserve more attention than the GDP figure.