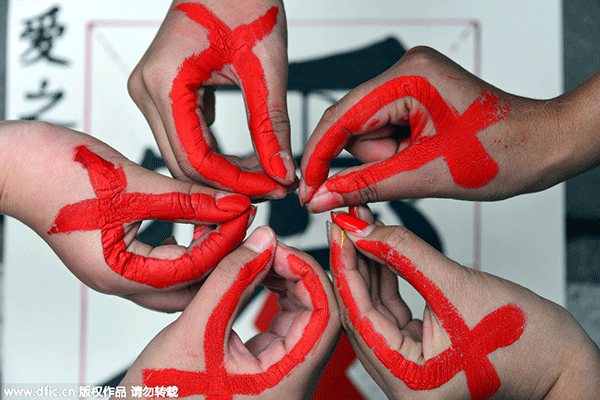 Volunteers in a university in Liaocheng city, East China's Shandong province painted red ribbons on the sides of their hands during an awareness campaign to mark World AIDS Day, which aims to raise public awareness and support for HIV/AIDS patients and their families, Nov 29, 2015.[Photo/IC]
TUESDAY MARKED WORLD AIDS DAY. Data show that the number of students who are HIV-positive in China has risen by 35 percent over the past 35 years, while in Hunan province the number of college students that are HIV-positive has risen 37 times since 2007. It is time to pay more attention to raising awareness of the virus, says Beijing News.
What are the main channels for the spread of HIV among college students? Opinions vary, but one thing is certain: lack of proper knowledge and facilities about safe sex plays a major role.
Media reports suggest 90 percent of students have only a very basic awareness of the virus. Some colleges even refuse AIDS prevention activities on campus.
The situation is made worse by discrimination against those who are HIV-positive. Some colleges do not allow students who have the virus to reside in dormitories or dine in campus canteens. Certain colleges were even reported to dismiss students with HIV.
It should be emphasized that such discrimination helps the virus spread, because those carrying it dare not let the society know about it. The discrimination discourages those with the virus to tell the truth, which increases the risk of them spreading it to others.
Only when those with the virus can live equally among others will they refrain from concealing their condition.
The National Health and Family Planning Commission has been coordinating with colleges to acknowledge HIV students on campus. That's a positive move but more needs to be done. Colleges need to raise students' awareness of the disease and offer proper preventive tools.
Social organizations need to be able to hold activities on campus to create a friendly atmosphere toward those with HIV.
The government has a role to play, too, by rendering efforts toward eliminating the barriers that prevent employers from discriminating against those who have the virus.
The spread of HIV is not something uncontrollable, but a key prerequisite for controlling it is ending the discrimination against those infected with the virus. That should be the common sense of the whole society and it will take the common efforts of all to discard discrimination and fight the disease together.