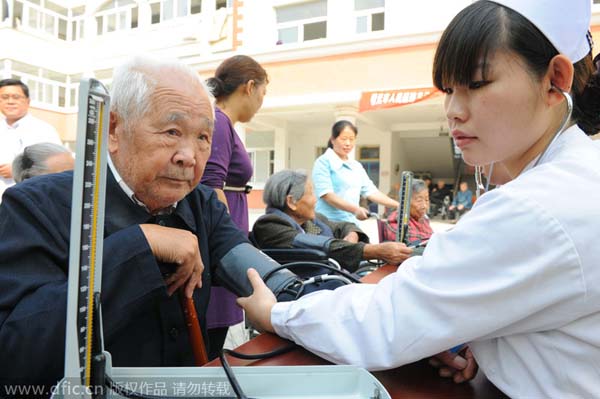 China's aging population will double from 200 million now to around 400 million by 2050 and will remain one-third of the total population for a prolonged period. [Photo/IC]
It is unbelievable that a 45-year-old maid in South China's Guangdong province is being tried as a serial killer.
She was promised an entire month's wage if the elderly woman she was hired to take care of died within a month, and she was accused of killing the old lady days after she got the job.
In court, she confessed to killing nine elderly people for the same reason.
Behind the horrifying story is the harsh reality that more than 35 million aged residents above 60 cannot take care of themselves. If their children cannot spare time to look after them, they either spend the rest of their lives in nursing homes or are looked after by people hired to care for them.
It is indeed rare for a caregiver to be a killer. But it is not rare for them to maltreat or steal money or other valuables from the aged people they are supposed to be caring for, especially when the people in their care are unable to protect themselves or their property.
The total number of people above the age of 60 in China is more than 212 million, and an increasing number of them will need the care of others in the near future. The demand for caregivers to look after them will be huge. How the elderly can ensure the people supposed to be caring for them are not a threat and will give the care they need is thus an urgent question.
Children who hire caregivers to look after their aged parents can put safety measures in place against those with bad or even evil intentions. Yet it should be possible for such care providers to be registered and vetted to ensure they have professional training and the ethical character necessary for such job.
That is surely a solution to this problem.