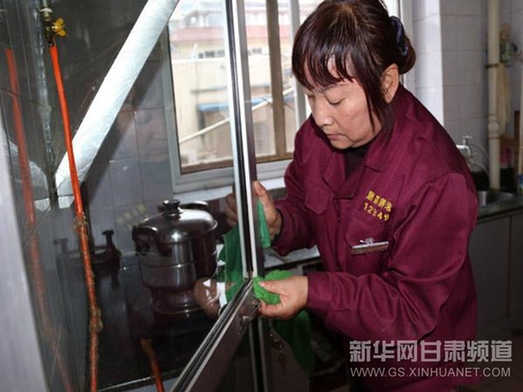 A housekeeper sent by the home-based care service center cleans the window for the aged in Dunhuang, Gansu province on Nov 23. [Photo/xinhuanet.com]
A home-based care service center for the aged was opened to the public in Dunhuang city, Gansu province on Nov 1.
The center works as a fenceless nursing home for the aged in the community and is the first of its kind opened in a county-level city in Gansu province.
So far, seniors in 375 households have received free mobile phones to be used for contacting the service center. More than 400 households are still awaiting approval and are expected to get service in December.
The community-based elderly in-home care service center provides professional service for seniors living in the region to help them solve daily difficulties. The center has elderly nursing service consultation and calling platforms, along with an in-home services network platform and service teams. The service hotline 12349 is accessible for the elderly.
It also keeps in touch with housekeeping service enterprises to provide daily care and household management for seniors.