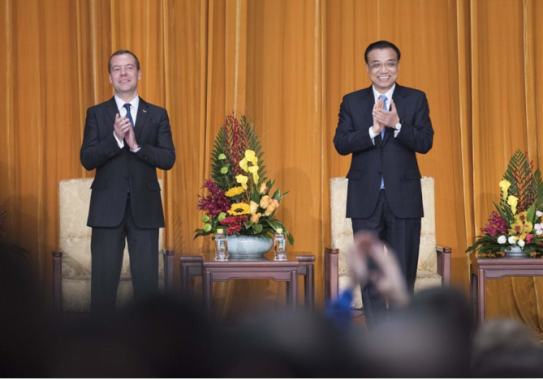 Chinese Premier Li Keqiang (R) and Russian Prime Minister Dmitry Medvedev attend the closing ceremony of China-Russia Youth Year & opening ceremony of China-Russia Media Exchange Year in Beijing, capital of China, Dec. 17, 2015.[Photo/Xinhua]
Editor's note: In order to deepen cooperation between Chinese and Russian mass media, the two countries decided to launch a joint news agency. For further interpretation on the subject, we interviewed Wu Fei, senior research fellow of Charhar Institute, professor of Jinan University's Journalism and Communication School.
1. Q: What are the technical considerations for the launching plan?
A: From a technical perspective, China-Russia joint news agency could alleviate the increasing pressure from western countries that criticizes Russia's declining power. In China, domestic media face problems like its reliance on western media and commercialization, which lead to weaknesses in their research and control over public opinions.
2.Q: Different from western media, Al Jazeera and Russia Today seem to stand for two media paradigms. What do you think are the lessons that the Sino-Russian joint news agency should learn from the two successful agencies?
A: Russia Today uses the space left by American medias' dominance through the daily news release, put efforts to report vulnerable groups' situation. For example, RT (Russia Today) reports Hispanic and Latino Americans' views and needs, and also pays close attention to NGO/NPO's recent developments. Al Jazeera was born from the clash of civilizations between the West and the Middle East. It expresses the viewpoints of Middle Eastern people.
The joint news agency would be independent strengthening both countries' leading roles in regional geopolitics. The One Belt And One Road and Eurasian Integration will reflect in the news agency's reports, and when it comes to issues like the South China Sea dispute, Ukraine's regional conflicts, the world's public would like to hear more authentic opinions from China and Russia, which means the news agency will play a significant role in future Geopolitical conflicts.
3. Q: According to your understanding of Chinese and Russian media, what will be key areas for future bilateral cooperation? What possible changes would the cooperation bring to international communication and public opinion? What kind of obstacles would both sides run into through the process?
A: First, as for future bilateral cooperation, both sides could transfer their official authentic voices and motivations and share their positions with the world. And China and Russia would have more consistent views.
Second, both governments could seek more consensuses for the South China Sea dispute and Ukraine issues.
Russian Today represents a challenge towards American power, Al Jazeera represents the clash of civilizations, and the Sino-Russian joint news agency could represent the influence and power of geopolitics.
Third, China needs more journalists with a broad international vision, so under the current situation there may still exist gaps and obstacles for the above three goals. Also, journalists from both countries would take time to learn how to get along and cooperate efficiently. For instance the Chinese may find it hard to adapt to Russians' furious temper.
Wu Fei, Senior Research Fellow of Charhar Institute,Professor of JiNan University
The opinions expressed here are those of the writer and don't represent views of China Daily website.