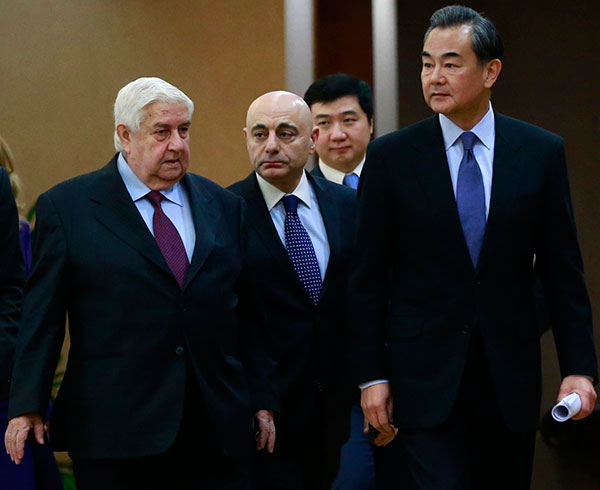 Foreign Minister Wang Yi (right) joins his visiting Syrian counterpart Walid al-Moallem for a media briefing in Beijing on Thursday. FENG YONGBIN/CHINA DAILY
Iraqi Prime Minister Haider al-Abadi and Syrian Deputy Prime Minister and Foreign Minister Walid Muallem both paid a visit to Beijing, albeit separately, last week, highlighting China's increasing role in the Middle East.
During Abadi's visit, China and Iraq issued a joint statement agreeing to establish a strategic partnership and deepen bilateral cooperation in various fields. At his meeting with Abadi on Dec 22, President Xi Jinping said China firmly supports Iraq's measures to safeguard its national security and stability, and will strengthen cooperation in this field.
Recent years have seen China's active participation in Iraq's post-war reconstruction, and its cooperation with Iraq in the field of security, as Xi has said, will enhance the Middle East country's ability to safeguard its national security and fight the Islamic State group that has captured most of the Iraqi province of Anbar.
As for the Syrian civil war, China has been pushing for its political resolution, insisting that the future of Syria should be decided by the Syrian people. China has actively participated in international mediation to draw the opposing parties in Syria to the negotiating table ever since the civil war broke out about five years ago.
Last year, China sent two of its navy vessels which collaborated with the naval forces of Russia, Denmark and Norway to escort ships loaded with chemical weapons out of Syria. That was the first time China provided maritime transportation support to help destroy chemical weapons, and it showed the country is shouldering more international responsibilities.
Over the years, China has repeatedly called for greater international efforts to address the humanitarian crisis in Syria. On its part, China has provided humanitarian support to Syria and several other Middle East countries on multiple occasions.