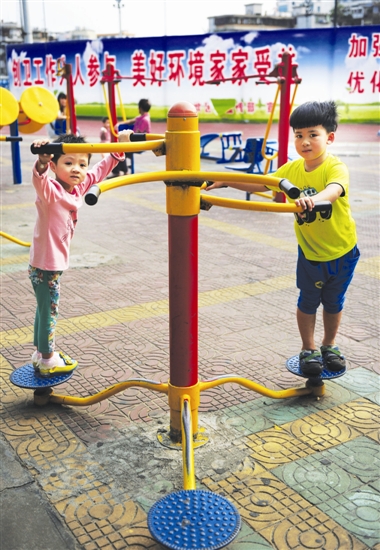 Children use fitness equipment at a community in Zhanjiang's Chikan district. [Photo by Yang Xun/Zhanjiang Evening News]
In many places, to enhance a city's image, local governments choose to build big modern stadiums that are then little used by local residents. It would be better to encourage people to exercise by creating more, smaller public spaces where people can exercise, says a China Youth Daily comment:
Sports facilities are now the most eye-catching buildings in most Chinese cities. I am always attracted to stadiums or gymnasiums of all kinds of shapes and colors. But while admiring the investment and the ambition, I always wonder for whom and why all these facilities were built, and whether they are used by local residents or not. What do local people think of these buildings?
It seems all these venues and facilities are giant "bonsai", since they are projects that simply reflect the will of local leaders for symbols of progress.
How to change the situation? First of all, end the mindset of show-off buildings. Second, rethink the purpose of building the facilities. No new stadiums are needed if the existing ones can be upgraded. Third, instead of building grand venues in remote suburban areas, the local authorities should create more small public spaces to attract more people to exercise.
(China Daily 12/31/2015 page8)