Winter sports take off with gusto nationwide
Public participation growing dramatically around the capital well ahead of Games
With about seven years to go before the 2022 Beijing Winter Olympics, public enthusiasm for winter sports has already taken off in China, highlighted by bustling scenes at ice rinks and ski resorts around the capital.
As the temperature dropped to around-15 C, with strong winds blowing, the Genting Resort Secret Garden ski complex in Zhangjiakou, Hebei province, welcomed a strong customer flow on Saturday, as it has every weekend since it opened in early November.
As early as 11 am, a long line of skiers waited to take the cable car at the foot of the mountain trails. A bigger crowd lined up in the resort's reception hall for check-in procedures.
The resort will be Beijing's snow event co-host venue for the 2022 Winter Games.
Similar scenes of mass participation have been seen at other resorts on the outskirts of Beijing and co-host Zhangjiakou since the announcement of the Olympic host was made in July.
Torgeir Bergrem, a professional snowboarder from Norway, was impressed by the increasing popularity of skiing in China after training at Secret Garden earlier this month for the Air & Style snowboarding contest in Beijing.
"The biggest difference, I feel, is there are a lot more people interested in it now. There were so many riders there. It's cool to see there are a lot more Chinese picking up the sport," the 24-year-old said.
At the Nanshan Ski Resort in a northeastern Beijing suburb, more than 5,000 skiers swarmed in on the opening day, Dec 5. Daily visitor numbers were expected to reach new heights around the New Year holiday, said the resort's marketing director, Xu Xinwen.
"The passion to ski seems to have skyrocketed in recent years in Beijing, as more and more people are embracing it as a new winter fashion. The preparation and publicity for the 2022 Winter Olympics will definitely give it a push," she said.
As China aims to promote winter sports among 300 million people en route to hosting the Winter Games, more grassroots winter sports events will be organized nationwide, and more skating and skiing facilities will be built to feed the growing public demand, according to China's Winter Sports Administration Center.
"Despite the recent boom in mass winter sports participation, China remains small in the number of winter sports fans and facilities. As the governing body, we should take the Olympic preparations as an ideal chance to provide more access to winter sports for the public," said Ren Hongguo, head of the center.
Initiated by the center, the National Mass Winter Sports Carnival will kick off its second edition on Wednesday at Beijing's Capital Gymnasium, which is another proposed venue for the 2022 Games.
sunxiaochen@chinadaily.com.cn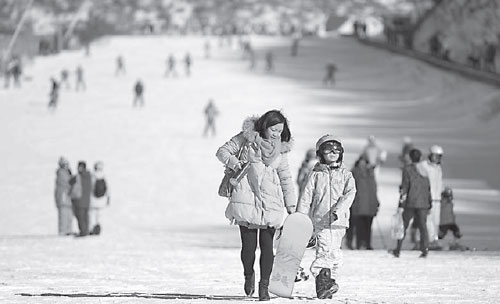 A woman and child take advantage of winter conditions at a ski resort in Zhangjiakou, Hebei province, early this month. An increasing number of skiers have swarmed into the city after it was named a cohost of the 2022 Beijing Winter Olympics. Pan Zhiwang / for China Daily