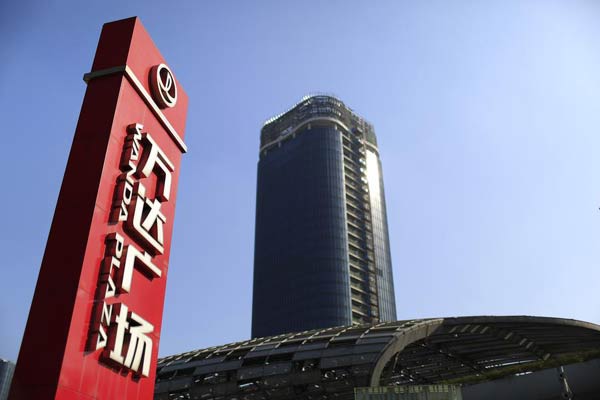 The logo of Wanda Plaza is seen in Shanghai Dec 23, 2014. [Photo/Agencies]
Real estate and entertainment giant Dalian Wanda Group Corp Ltd is planning to bring more big-ticket sports events to China and has set up a global sports headquarters in Guangzhou, the capital of Guangdong province, for the purpose.
The company said in a statement that it has signed a deal with the local government for the new Wanda Sports building in Huadu, a suburban district in Guangzhou. It is being set up with registered capital of about 1 billion yuan ($154.1 million).
"We are here because of the city's geographic advantages and rich sports heritage," said Wang Jianlin, chairman of Wanda.
According to Wang, the group plans to bring at least two top global sports events every year to Guangzhou over the next three years. Wanda conducts more than 20 sports events and has 25 offices in 13 countries and regions.
"Wanda Sports is looking to be the first company in the world to have $10 billion in sports-related investments," Wang said after signing an agreement with Guangzhou Mayor Chen Jianhua on Monday.
Wanda has become the world's largest company in the sports industry through a series of global acquisitions, the company said. It paid 1.05 billion euros ($1.15 billion) for Infront Sports and Media, a leading sports marketing group, in February, and bought the World Triathlon Corp for 650 million euros, after taking a 20 percent stake in the La Liga club Atletico Madrid for 44.98 million euros.
Earlier, Wanda said it would make more acquisitions in the sports sector, as the company has outlined a strategic plan to make sports one of its pillar industries for long-term growth.
Xie Liang, a veteran sports commentator with Radio Guangdong, said the new Wanda headquarters in Guangzhou would play a significant role in boosting China's sports industry.
"With Wanda becoming the world's largest sports industry company, several leading sports events will be held in China," said Xie.
China outlined a plan to speed up development of the sports industry in October 2014, with the industrial value estimated to surpass 5 trillion yuan ($775 billion) by 2025.
"The Guangzhou headquarters will also help strengthen the city's leading position in some top sports such as soccer," said Xie.
Like Wanda, several large companies like Alibaba Group Holding Ltd, Internet giant Tencent Holdings Ltd and video content provider LeTV Holdings Co Ltd have announced plans to enter the sports industry.
Alibaba announced in September it was setting up a new unit, Ali Sports, to tap into China's sports market and to use digital technology to transform the entire industry chain.