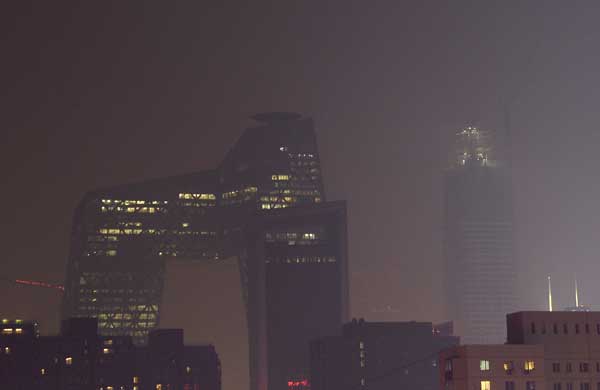 The CCTV headquarters is shrouded in heavy smog in the central business district in Beijing, China Dec 7, 2015.[Photo/Xinhua]
Wang Xinhai, a scholar with Peking University, said at a development-themed forum that encouraging residents in North China to migrate to the water-rich southern regions could quench the thirst for natural resources in the north of the country, which has provoked a debate. Daily Sunshine newspaper in Shenzhen, South China's Guangdong province, questions the recent media hype based on Wang's controversial opinion, suggesting that scholars think twice before they make such comments:
Admitting that many areas in northern China are burdened by mounting environmental pressures, the Peking University researcher is at least being sincere in the face of multiple challenges.
But his migration proposal has failed to fully consider the difficulties embedded in such a massive relocation of people. For example, how many people from the north of the country would be moved to the south, where to accommodate them, how to defuse the social shock of such a large influx of people on the local residents, and what to do to those who refuse to leave their homes, are all issues that would have to be considered.
More importantly, the causes of the smog and other environmental problems are complicated. Of course, the smog-stricken Beijing cannot always count on the wind to blow away the pollution, as long as people continue to flow into the capital because of its high-quality resources, such as better education and healthcare.
The Beijing authorities are planning to transfer some government functions to suburban areas and optimize its development mode, and these are better solutions.
Unfortunately, some Chinese media outlets prefer controversial ideas, and even reinterpret them as needed to hype up certain individuals or groups. Disseminating sensational comments from the so-called professionals, may deal a heavy blow to not only the credibility of the media, but also these scholars' reputations. Such sensationalism aimed at seeking popularity and clicks must be ended.
(China Daily 12/31/2015 page8)