Call for fast action on Syria cease-fire
The resolution on the Syria issue that was passed unanimously by the UN Security Council deserves "implementation at an early date" by all parties, Foreign Minister Wang Yi said on Saturday.
The minister made the comment at a joint news conference in Berlin after the first China-Germany Diplomacy and Security Strategy Dialogue.
The United Nations resolution, which was passed 15-0 on Friday, calls for elections to be held in Syria within the next 18 months and lays out the political groundwork needed to end the civil war.
United States Secretary of State John Kerry, who presided over the vote as president of the Security Council, called the resolution a "milestone because it sets out specific concepts with specific time frames".
Diplomats convened in New York last week for the third meeting of the so-called International Syria Support Group, which has previously met twice in Vienna and endorsed a road map for achieving peace in Syria. The road map comprises a cease-fire by January, discussions between Syria and opposition parties mediated by the UN, and then elections in Syria.
Wang said in New York on Friday that "the resolution embodies the broad consensus of the international community and demonstrates the important role of the Security Council". The next day, he told reporters that the resolution "serves the Syrian people's interests", and that its main points echo China's position.
The resolution has made it clear that the UN is expected to be engaged in resolving the Syria issue "in bigger scope, and in a more proactive and positive manner", Wang said.
Dong Manyuan, vice-president of the China Institute of International Studies, said: "At this moment, to resolve the Syrian refugee crisis and help people get their homeland back, all parties should first embark on a political settlement and diplomatic actions."
Yang Cheng, deputy director of the Center for Russian Studies at East China Normal University in Shanghai, added that all parties need to "think about how to walk out of today's dilemma" rather than apportioning blame.
On Thursday, the Security Council unanimously passed a resolution to prevent the Islamic State, al-Qaida and other terrorist groups from raising money to fund criminal activities.
Chinese Finance Minister Lou Jiwei said in a statement: "All countries should follow the (Financial Action Task Force) rules to strengthen cooperation in financial monitoring and crack down on such illegal activities as underground banks, so as to cut terrorist funding channels."
Contact the writer at zhangyunbi@chinadaily.com.cn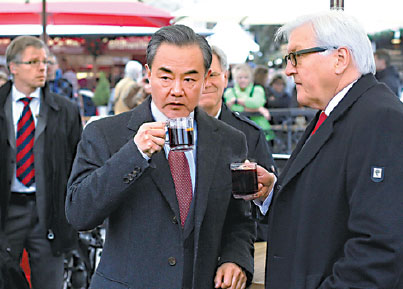 Foreign Minister Wang Yi drinks a cup of mulled wine with German counterpart Frank-Walter Steinmeier at a Christmas market in Berlin on Saturday. Markus Schreiber / AP