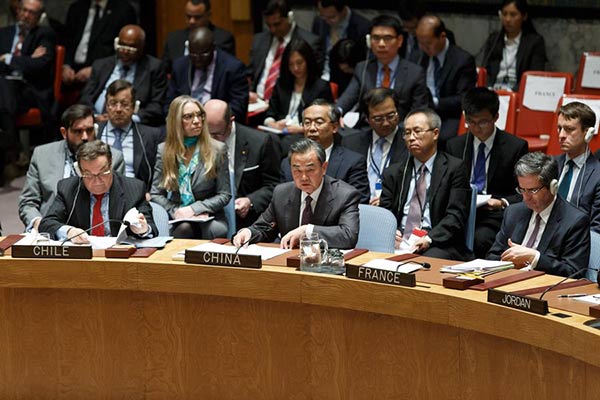 Foreign Minister Wang Yi speaks to members of the Security Council at the United Nations Headquarters in Manhattan, New York, Dec 18, 2015. [Photo/Xinhua]
DAMASCUS -- Syria's Foreign Minister Walid al-Moallem said Thursday that his government was ready to partake in next month's peace talks in Geneva, amid fresh deals concluded in rebel-held areas near the capital Damascus for the evacuation of militants toward northern Syria, reports say.
Syria "is ready to participate in the Syrian-Syrian dialogue in Geneva without any foreign interference," al-Moallem said, in the first official Syrian response to the international decision adopted at the UN Security Council recently regarding finding a political end to the nearly five-year-old crisis.
Last week, the UN Security Council unanimously agreed a resolution, which calls for Syria peace talks to begin in early January. It also calls for a nationwide cease-fire in Syria to come into effect "as soon as the representatives of the Syrian government and the opposition have begun initial steps towards a political transition under UN auspices."
The resolution also says that the truce should be carried out in parallel with the talks. Still, actions against terrorist groups would not be affected, meaning that Russian, French and US air strikes against Islamic State (IS) will continue.
Analysts in Syria said the new resolution has reflected a new understanding between Moscow and Washington, particularly after the two seem to have overlooked some details that have for long been obstacles standing in the face of an international consensus, mainly the issue of the Syrian presidency.
The new resolution included the Syrians' right to choose their leadership, without having a clear call for President Bashar al-Assad's departure.
During his meeting with his Chinese counterpart, Wang Yi, in Beijing, al-Moallem said that a progress in the efforts to reach a political solutions is linked to victory over terrorism which has become a matter of global priority and requires pushing forward the international efforts to dry up the sources of terrorism and prevent the infiltration of terrorists across the border.
The minister added that any attempt be any international party to interfere in the Syrians' right to decide their future is rejected.
For her part, Syria's Presidential Political and Media Advisor, Buthaina Shaba'an said in a recent interview that the adoption of new roadmap at Security Council was prompted by the West' failure in Syria, the success of the Russian vision and the spread of terrorism to the US and France.
Putting this resolution into effect depends on whether the terrorism-sponsoring countries come to believe that they have reached an impasse and have to change their position, said Shaba'an, adding that "now it is high time that the resolution be implemented if there is an international will and real intention to stop targeting and draining Syria."