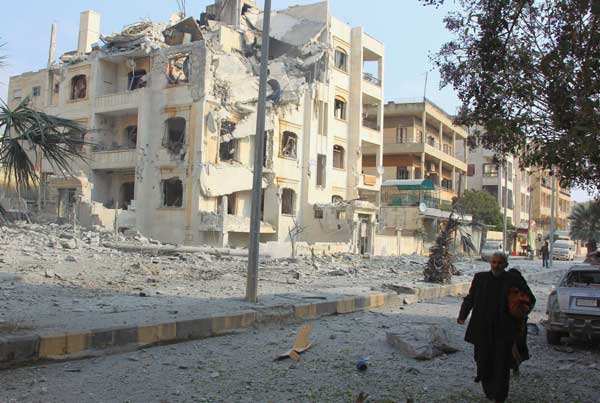 A man walks past damaged buildings after what activists said were airstrikes carried out by the Russian air force in Idlib city, Syria, December 20, 2015. [Photo/Agencies]
ANKARA - Turkey on Monday condemned Russia for Sunday's airstrikes in Syria's northwestern Idlib province, citing huge civilian casualties.
Turkish Foreign Minister Mevlut Cavusoglu said around 200 civilians were killed on Sunday in a suspected Russian airstrike in the center of the rebel-held province of Idlib.
"Russia mainly targets the moderate opposition in Syria since it entered Syria on Sept 30. Civilian residential areas have also been increasingly targeted as well," Cavusoglu said.
According to Cavusoglu, Russia has launched around 4,000 aerial attacks, with more than 90 percent targeting moderate opponents against President Bashar al-Assad.
"The death toll of civilians due to Russian operations is over 600. Some organizations say this number is around 800. We want the world to know that more than 150 of this number are children," Cavusoglu said.
Describing Russia's actions as "insincerity, to say the least," the Turkish foreign minister said such bombardments need to stop targeting the moderate opposition and civilians, otherwise the conflict would continue for years.
Russia has been carrying airstrikes in Syria since Sept 30 in a bid to support the Assad government.
The Syria-Turkey relations have hit the bottom since the beginning of the Syrian crisis in 2011. Turkey blames Assad for prolonging the crisis, while Damascus accuses Ankara of facilitating the flow of foreign jihadists into Syria.