It seemed to me that Hawaii - over my 18-year romance with the rainbow state - would always remain the same laid back, peaceful and slow-moving paradise it has always been.
However, on my recent business trip to Honolulu I got a whole new perspective: Hawaiians are recalibrating their Asia strategy by moving China to the top of their to-do-business-with list.
Having been profoundly influenced by Japan in the economic and cultural realms for decades, Hawaii is gradually emerging from the Japanese shadow and shifting its sights to the world's second-largest economy.
In tourism, one of Hawaii's pillar industries, arrivals from China are growing faster than those from any other major Asian market, according to the Hawaii Tourism Authority (HTA).
Chinese tourists are heavy spenders, too - each is expected to drop about $322 a day in Hawaii, the most of any tourist group.
HTA projects 90,000 Chinese visitors to Hawaii this year, and predicts there will be continuous spurts in the future, given the new relaxed US visa policies.
"Hawaii is well-known in China," said Vernon Chinn, a real estate agent on the island of Oahu. "Part of that is historic. Dr. Sun Yat-sen the founder of modern China, spent four years at Iolani School until 1882 and many Chinese leaders went to the University of Hawaii (UH) or the East-West Center for training."
Chinn himself served as a host family two decades ago for Chinese journalists studying at UH.
Flying Hawaiian Airlines on Dec 12 to Honolulu, I spotted an article written by Mark Dunkerley, CEO of the airlines, detailing how his company navigated the bureaucracies of the US and Chinese governments for years to finally launch a direct flight between Beijing and Honolulu in April of 2014.
"Over the coming 50 years, those living in China and the rest of Asia will be the significant majority of world travelers," Dunkerley wrote.
The largest carrier in Hawaii, the airline's bid for non-stop China service was rejected in 2005 by the US Department of Transportation. Currently, Hawaiian Airlines flies the route three times a week with its 294-seat Airbus A330-200.
The airlines opened sales offices in Beijing and Shanghai in 2012, hiring 35 Mandarin-speaking flight attendants and 12 Mandarin-speaking customer service agents.
"In the decades ahead of us, tourism from China is going to be one of the sustaining pillars of our local economy," Dunkerley wrote. "It is Hawaiian Airlines' mission to encourage and support a healthy tourism industry in our islands."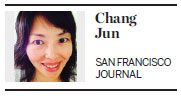 Dunkerley believes the addition of the Beijing-direct route holds great promise for the state's economy. "[Tourism] has all the features any community would want: It is labor intensive, providing wages and salaries for residents. And because visitors want to see the environment and experience the culture, the tourism industry has a more powerful incentive to preserve a destination than other forms of economic activity," he said.
The influx of Chinese tourists has prompted changes in the local service industry - Chinese-speaking employees in hotels, retail stores and restaurants are no longer rare.
Strolling around flagship department stores along Waikiki Beach, I was constantly greeted by Mandarin-speaking clerks. I can't recall a similar scenario on any of my previous trips to Hawaii.
"Service industries in Hawaii have hired more Mandarin-speakers for the workforce," said Stephanie Lin, a sales assistant at Neiman Marcus. "My take is this is the trend and direction, otherwise, you lose your business."
Contact the writer at junechang@chinadailyusa.com.