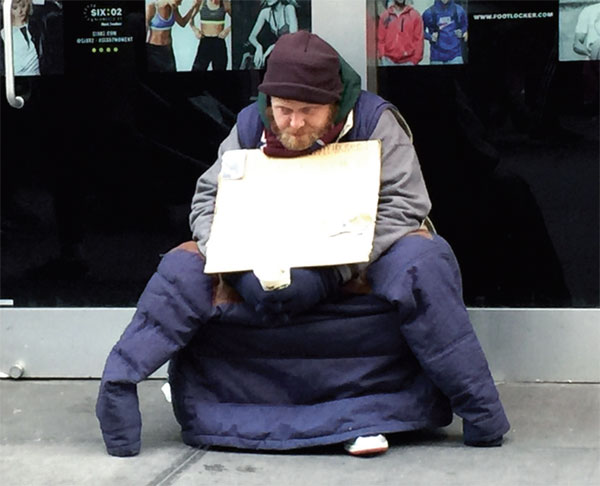 A homeless man holding a sign seeking help sits on the sidewalk across the street from Macy's on 34th Street in New York City on Sunday. Chen Weihua / China Daily
Visiting the United States for the first time in 1993, I was deeply impressed by how rich, vibrant and advanced the country was. At the same time, I was appalled by the huge numbers of homeless people on the streets of big cities such as New York, Washington, San Francisco and even Honolulu.
I spent a year then in Honolulu, where I was told that some states actually sent their homeless to Hawaii so that they wouldn't freeze to death in winter, something I still find difficult to believe and have not been able to verify.

However, 22 years later, there can be no denying that the homeless population of the US is huge, ranging from a half million to more than 3 million, depending on the data source.
In New York City, widely regarded as the greatest American city, the number has swollen to 60,000, nearing the city's record. While most of these people live in temporary shelters, about 3,000 of them live on the streets every day.
In fact, two of the city's top officials in charge of homelessness affairs resigned recently due to slow progress on the problem. That there is a Department of Homeless Services in New York shows the severity of this chronic societal problem.
The New York Daily News reported on Saturday that Governor Andrew Cuomo is considering a proposal to use the Creedmoor Psychiatric Center in Queens to help deal with the city's homeless crisis, and New York Mayor Bill de Blasio's administration said it is open to the idea of converting the near empty-building for that purpose.
I will never forget a scene outside China Daily's New York office building on 43rd Street years ago, as a homeless man sat outside during a snowy winter making his bed by a heat grate on the sidewalk.
In Washington, where I now live and work, homeless people are often seen squeezing into cardboard-box homes at night in the city center. The district's Dupont Circle and Farragut Square, which I pass by often, are two of the parks where homeless people are part of the permanent scene, and they include some people who hold signs reading "Please Help Homeless Veterans".
Outside the Martin Luther King Jr Memorial Library near Chinatown in the US capital, every day long queues of homeless people wait to be picked up and taken to temporary shelters.
According to a report in The Washington Post in May, last winter there were 11,623 people without permanent shelter in the Washington region.
While touting respect for veterans has become a trend in American politics, the serious issue of homelessness in the US, especially among veterans, has not been mentioned in the Republican presidential debates, including the latest one in Las Vegas on Dec 15.
Nor was homelessness a major point of discussion during the Democratic presidential debate on Dec 19 in Manchester, New Hampshire, although Bernie Sanders deserves credit for running a campaign that cares about underprivileged Americans.
The indifference of most politicians has contrasted with the fact that a Gallup poll in March showed that more than one-third of American respondents (37 percent) worry "a great deal" and 27 percent "a fair amount" about hunger and homelessness in the US. Another 27 percent said they worry "a little"; only 8 percent said they were "not at all" worried.
The warmth in this otherwise extremely cold and sad situation comes from the many charity organizations that try to help the homeless. Just as I left Washington for New York a week ago for a month-long work, I saw a stand set up in Edward R. Murrow Park near the World Bank and International Monetary Fund headquarters distributing food and daily necessities to the homeless.
It is ironic given that the mission of the World Bank, whose largest shareholder is the US, is to reduce and eradicate poverty.
US leaders like to talk about how great their country is. That might be true in many respects. But when it comes to tackling the problem of homelessness, it has clearly been a huge failure.
A great nation should not have homeless people waiting outside convenience stores, subway stations and parks, as in New York City, and especially in the winter Christmas season.
Contact the writer at chenweihua@chinadailyusa.com