BEIJING - China and Russia signed more than 30 cooperation documents in energy, investment, finance, high technology and other areas during the 20th China-Russia Prime Ministers' Regular Meeting on Thursday.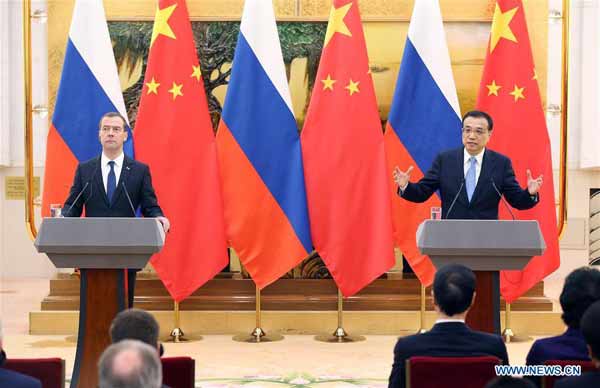 Chinese Premier Li Keqiang (R) and Russian Prime Minister Dmitry Medvedev meet the press after the 20th China-Russia Prime Ministers' Regular Meeting in Beijing, capital of China, Dec. 17, 2015.  [Photo/Xinhua]
Energy giants Sinopec and Rosneft signed an MOU on oil and gas projects in eastern Siberia while CNPC and Gazprom inked an agreement on the design and construction of the cross-border section of China-Russia east-route natural gas pipeline.
China Development Bank and Russia's state corporation Vnesheconombank (VEB) also signed an agreement on a 10 billion yuan (1.56 billion U.S. dollars) loan.
"The slew of deals signed between China and Russia is a testimony of a higher level of our relationship, and we are determined to ensure their implementation," Chinese Premier Li Keqiang said when meeting the press along with his Russian counterpart Dmitry Medvedev.
With the sluggish global economic recovery, lower commodity prices and downward pressure for economies, China and Russia have faced common challenges for growth, Li said.
"But China and Russia have faced downward pressure on the economy head on," he said, citing increased Chinese commodity imports from Russia and rising bilateral cooperation in energy, equipment, high technology and e-commerce.
Both premiers called on the two countries to find new growth engines.
China proposed joint efforts to set industrial capacity and equipment manufacturing as new areas to power the economy, urging implementation of key cooperation projects and more cooperation in areas including energy, finance, aviation, agriculture and military technology.
Li also proposed carrying out cooperation in oil exploration, development and refineries, and aligning China's development strategies of innovation, mass entrepreneurship and "Made in China 2025" plan with Russia's Development Strategy by 2020.
China is willing to work with Russia to join China's Silk Road Economic Belt initiative with the Russian development strategy as well as the Russia-initiated Eurasian Economic Union, Li said.
Russia and China have made breakthroughs in agricultural cooperation, Medvedev said, praising cooperation documents signed on quarantine inspection requirements on exporting Russian wheat, corn, rice and soybean to China.
Russia hopes to work with China to outline future cooperation and explore new ways and areas for cooperation, Medvedev said, suggesting both sides further practical cooperation in trade and investment, mining resources, oil and gas, nuclear, aerospace, agriculture, finance and military technology.
China and Russia agreed to prepare for a successful China-Russia Media Exchange Year in 2016 and 2017. Li and Medvedev called on the media to contribute to the understanding and friendship of the people in the two countries.
In a joint communique released after the meeting, the two countries pledged to enhance coordination in the Shanghai Cooperation Organization and jointly fight terrorism.
They reaffirmed support in political settlement of the Syria issue and the UN's key role. They vowed to maintain peace and stability in the Korean Peninsula and play constructive roles in a comprehensive, long-lasting and proper settlement of Iran's nuclear issue, said the communique.
Prior to the meeting, Li held a red-carpet ceremony to welcome Medvedev at the Great Hall of the People.