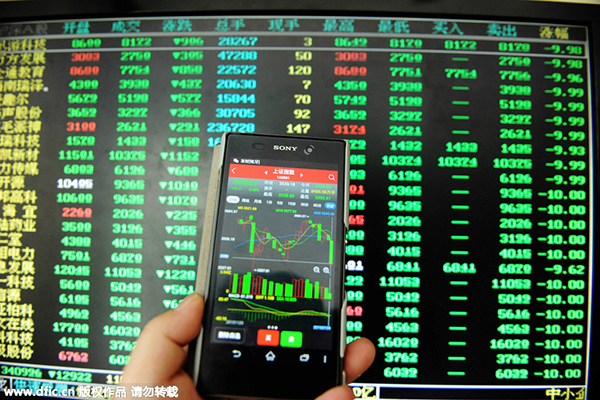 A stock indicator shows the benchmark Shanghai Composite Index on Jan 4, 2016. [Photo/IC]
The 7-percent dive in the value of Chinese stocks on Monday, the first trading day of the year, triggered the new circuit breaker mechanism that also came into effect that day.
The fall may be largely a result of knee-jerk worries about the imminent end of a ban on sales of shares by listed companies' major shareholders, which was imposed during the market crash last summer.
But, more importantly, by reflecting domestic investors' growing fears about weak factory activity across the country, it also represents an urgent call for greater efforts to speed up structural reforms and improve the overall profitability of Chinese enterprises.
If the health of China's economy is indeed an overriding concern for the global recovery this year, international investors should keep a close eye on the country's endeavors to tackle its overcapacity.
As Chinese policymakers go all out to address the problem of inefficient and unprofitable "zombie enterprises", it is expected that the world's second-largest economy will make some real progress this year on the painful but necessary transition from investment-and export-led growth to more self-sustaining growth driven by consumption and innovation.
For about three decades, China has based its rapid development on being the global manufacturing powerhouse. However, since the onset of the 2008 global financial crisis the growth prospects of the world economy have been significantly dampened. It has become increasingly obvious that China can no longer rely on exports for growth and the problem of too much capacity built to meet external demand will deteriorate unless the number of "zombie enterprises" is substantially slashed.
That is why Chinese authorities have made addressing overcapacity one of the five top economic tasks in 2016.
The government eliminated some of the production overcapacity in the iron and steel, aluminum, cement and plate glass industries last year. But far more needs to be done this year.
Eliminating outdated industrial production will definitely cause a lot of short-term pains for local economies as factories close or cut output and employees. But the cost will be much dearer for the country if funds and resources are allocated to keep uncompetitive enterprises on life support.
Chinese policymakers have ample tools to ease domestic investors' concerns over a possible glut of share sales. But their long-term confidence hinges on the country's progress in reducing overcapacity and thus improving the overall quality of economic growth and the profitability of listed companies.