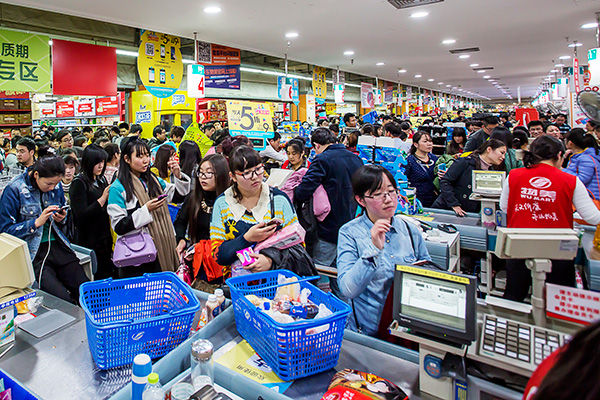 An outlet of Wumart Stores Inc in Hangzhou, capital of Zhejiang province. The retail chain operator said on Oct 20, 2015 that it was delisting its H shares from the Hong Kong bourse amid uncertain market conditions for hypermarkets in the Chinese mainland. [Photo/China Daily]
There is a saying that "if you don't take care of your money, neither will your money take care of you".
Banks like to use it to promote their wealth management products, but still I find it reasonable. You have to do something with your hard-earned money to prevent it from being eaten away by the rising inflation. The question is - how?
Many would choose to invest in the stock market because the "buy low, sell high" success formula is simple to grasp, at least in theory. US legendary mutual fund manager Peter Lynch said everyone can be a stock picker, so long as he keeps his eyes open for wealth opportunities that pop up everywhere in our daily life.
"The average person is exposed to interesting local companies and products years before the professionals," he wrote in One Up on Wall Street. His mantra is "buy what you know", as he believed one way to hit the bull's eye in investment is to focus on firms that offer products and services you use, and like as well.
He bought Taco Bell, one of his biggest winners, not because he talked with its CEOs or analysts, but because he happened to order its burrito and liked it. So the best place to begin looking for "the tenbagger", a term that he coined to describe investments that have the potential to increase 10-fold, "is close to home".
That sounds inspiring, especially for me, who, despite having spent a dozen years dabbling in the market, have yet to find a workable way to pick stocks that can beat the market. So last year I decided to give it a try, using Lynch's mindset.
I needed to look no further than several buildings beyond my apartment. Across a main street to the west of my neighborhood is a supermarket run by Wumart Stores Inc, one of China's largest retail chains, which offers a wide array of commodities ranging from 4G mobiles, high-definition TV units, pots and pans to vegetables.
Hundreds of meters away eastward is Japanese supermarket Ito Yokado, but prices there of almost everything comparable are 10 to 20 percent higher. That explains why Wumart is always much more crowded, packed with price-sensitive senior residents, many of whom are fetched by Wumart's free mini shuttle buses.
With its consistent customer traffic and a strategy of "everyday low price" similar to US retail stalwart Walmart's, Wumart seemed to possess traits required for a successful company.