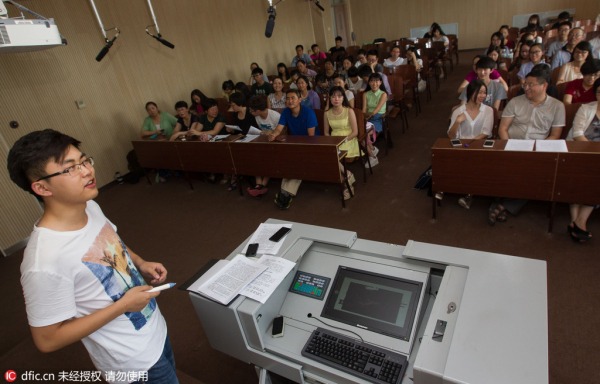 A classroom of Jilin University of Finance and Economics.[Photo/IC]
Jilin University of Finance and Economics based in Changchun, capital of Northeast China's Jilin province, recently launched new rules to regulate the daily schedule of students including the hours students can access the internet in their dormitories. Every student was asked to sign their acceptance of the new rules. China Youth Daily commented on Wednesday:
It seems the university in Jilin province is pulling students back to high school.
Yes, the university is supposed to be a quiet ivory tower, and students should be hard-working and well-mannered. But the problem is that there is no need to control campus life to such an extent. It is not necessarily a good thing to insist on strict control.
Not all elements of the new rules and regulations have sparked controversy. For instance, in accordance with the new rules, students in general cannot bring food into the classroom and cannot send text messages or use social media during classes, which has aroused few complaints from the students for the sake of their studies. And it is agreed that students must do more physical exercises.
But the students do not appreciate the university management's good intentions in bringing order to the campus. They hate being managed in such a way.
Students at military schools expect to be regulated from when they wake up to when they go to bed, but students at other universities don't expect to lose their "freedom".