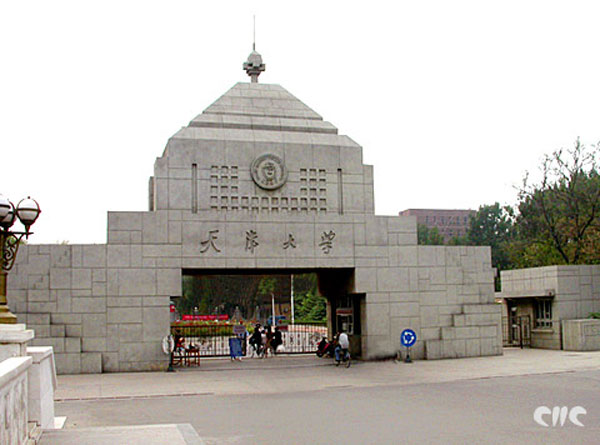 Tianjin University [File Photo]
BEIJING - Students at Tianjin University can now enroll in courses in what is possibly the most difficult subject of all - love.
Around 200 students crowded into a lecture hall at the prestigious university on March 30 as the first class of a new course on romance, "Basic Theory and Experience of Love," got underway.
"Hopefully the lecture will give students a higher sense of responsibility toward dating," said Liu Xiaochun, an associate professor of law at Tianjin University and course lecturer.
During the 90-minute talk Liu explained legal issues related to dating, including such topics as mistresses, domestic violence, divorce and abortion. "It is the first time I have talked about dating in public," he said.
For many, often away from home for the first time, college is their first chance to explore romance after dedicating much of their high school years to study.
One male student who asked not to be named, said he hoped the course would help him get along with his girlfriend better.
Organized by a student dating club, the course covers a wide range of topics from dating tips and etiquette to counseling. The classes are taught by teachers from the university and external experts.
The course was inundated with more than 800 applications, far beyond initial expectations, Wang Rui, head of the student dating club, said.
"Students can gain two credits by attending no less than five lectures and submitting a 2,000-character report at the end of the semester," Wang said.
College relationships have been openly discussed across Chinese campuses, resulting in several programs to help students make their way through what could be a minefield. Such august institutions as China Youth University of Political Studies, Wuhan University and Renmin University of China all have similar courses.
"The purpose of these courses is not to encourage students to fall in love, but to help them develop a proper attitude toward love and cope with problems they might meet when dating," Xiong Bingqi, deputy director of 21st Century Education Research Institute, said.
Yang Li from the mental health education center at Tianjin University said many students lack the capacity to deal with failures involved in love, which can be traumatic and result in rash or even violent behavior.
The courses will give students the skills they need to maintain better romantic relationships, Yang said.
The Tianjin course was applauded by social media users, who acknowledged the value of such lessons for often clueless students.
"It is rare for college lovers to end up married," user "Yindaxiaxia" posted on microblog Sina Weibo. "It is crucial they understand love and relationships to avoid conflict and pain."