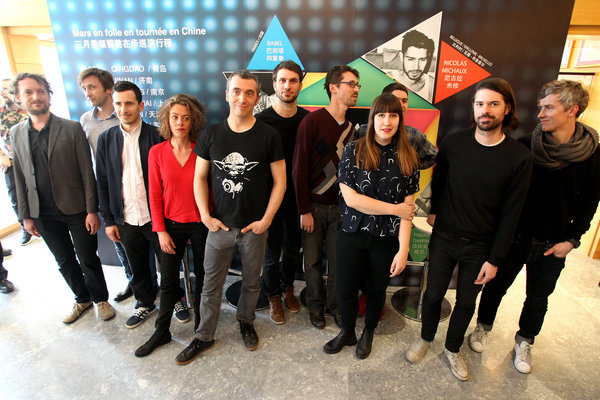 Performers from France, Canada, Switzerland and Belgium participate in the Ninth Mars en Folie (March Madness) Music Tour in Beijing.[Photo by Zhangwei/ China Daily]
Outside the west courtyard of the former site of the Duan Qirui government (the former headquarters of Duan Qirui early in the 20th century), one of the largest live performance venues in Beijing's Dongcheng district that can hold up to 500 people, nearly 1,000 youngsters from different nations, mostly of Chinese origin, were waiting patiently last Friday.
They were there for the Ninth Mars en Folie (March Madness) Music Tour, and a shared passion for French.
That evening's chanson concert, organized by the Alliances Francaises network and the embassies of France, Canada, Switzerland and Belgium, is one of the more than 30 French concerts being staged in 14 cities around China through March 25. The finale will be at Shanghai's Mao Livehouse on Friday night.
What surprised the organizers was the size of the fan following for original French music in Beijing.
When they issued about 1,000 passes for the show via different channels, they estimated that about half of those who had taken the invites would show up.
Yet, the four bands performing that night attracted almost everyone with a ticket.
The French chanson night featured indie pop music, romantic and philosophical music, from the Belgium-based Nicolas Michaux; ballroom punk chanson from Fabian Tharin, a former Swiss teacher who rebels against traditions with unique melodies and lyrics; the French quartet band Babel, which moves between jazz and rap; and Felix Dyotte from Canada's Quebec, who infuses endless elegance and grace into pop music.
Most songs performed that night were in French. But not all.
Sebastien Rousselet, 40, the main singer with Babel, tells China Daily that their main hit, How Many Miles to the Moon, repeatedly uses the English line "how many miles to the moon" in chorus, is an effort to show a mix of different cultures.
"Our band's name Babel represents our spirit of mingling different voices and cultures. I intentionally use English in my French song to achieve that," says Rousselet.
"During my tours, I found that Chinese is a language that suits singing very well. I have chosen English for now because I cannot handle Chinese at the moment, but I'd love to give it a try."
Comparing Chinese fans with their European counterparts, Rousselet says: "I noticed that Chinese audiences are more likely to dance to the music and melody spontaneously. Europeans, on the other hands, have far less passion, if any at all.
"Oh, and the Chinese love to take photos with me."
The tour is part of the ongoing 21st Francophonie Festival, which is a showcase of diverse French cultures and a way to show how they interact with each other through a common language.
French is spoken by almost 300 million people around the world. By 2050, there will be about 800 million French speakers, mostly in Africa.
chenmengwei@chinadaily.com.cn