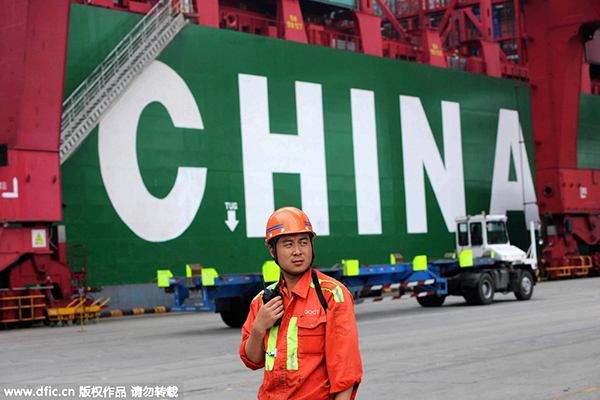 A stevedore works at Qingdao port in Shandong province, July 1, 2015. [Photo/IC]
Over the last four decades, China has successfully transformed itself from a planned economy into an open economy where almost all commodities are priced by market forces. More than 80 countries have recognized China's strenuous efforts in this regard by granting it market economy status.
However, the United States, the European Union, Canada and some other developed economies have yet to do the same, either to restrict the flow of China's low-cost exports into their markets, or to take advantage of their willingness to bestow such status as a bargaining chip when meeting Beijing at the negotiating table to discuss other issues.
China seeks to get market-economy status in the hope that the impact of antidumping duties on its exports will be diminished. If such status is given, these developed economies would not be allowed to levy anti-dumping taxes against China's exports by using a constructed value based on costs and prices from outside the exporting country. During previous years, exports of China's textile and solar products, clothes and bicycles to developed economies have been hugely affected due to them not accepting China as a market economy.
Though Beijing expects to "automatically" gain recognition as a market economy by the end of the year, there are still obstacles being put in its path.
Washington has basically opposed China's rise and it has even recently warned the EU not to "compromise" by granting China market economy status. In the EU itself, opinion is divided, although there are strong voices in favor of giving China such status.
It is reported that the European Commission, the executive arm of the 28-state union, will be giving its preliminary assessment next week. While most EU member states have recognized China's reform progress, countries such as Italy and France have expressed the difficulties they face should the decision go in favor of China.
Meanwhile, the US is trying every means to lobby the EU in favor of supporting its position, warning that if the EU grants China market economy status it will be "unilaterally disarming" itself.