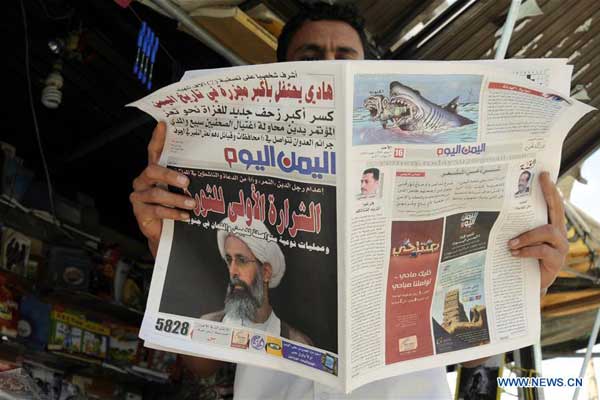 A man reads the newspaper showing the photo of the prominent Shi'ite cleric Sheikh Nimr al-Nimr in Sanaa, Yemen, Jan 3, 2016. Saudi Interior Ministry announced on Saturday the execution of 47 people on terrorist charges, including the dissident Shi'ite leader. [Photo/Xinhua]
The escalation in tensions between two Middle East powers has put the region under severe strain.
The surging feud between Saudi Arabia and Iran was sparked by the former's conviction and execution of 47 individuals, including the prominent Shiite Muslim cleric Nimr al-Nimr, on terrorism charges. Angry Iranian protesters then raided and set fire to the Saudi Embassy in Teheran on Saturday. Saudi Arabia has responded by cutting its diplomatic ties with Iran.
With the Middle East already afflicted with too many woes - the civil war in Syria, social unrest in Libya and the rampancy of the Islamic State terrorist group in Iraq and Syria, the region obviously cannot afford to have a new source of tension.
Saudi Arabia and Iran should look to the bigger picture of regional peace and stability and exercise the utmost restraint, because further deterioration in the region's security outlook will cater to the interests of neither.
Both Saudi Arabia and Iran are members of the international campaign against the IS group. The abrupt deterioration in relations between Riyadh and Teheran will not help build unity in the anti-terror campaign but rather add new uncertainties to it.
The latest tension between Riyadh and Teheran once again shows the sectarian rifts in the Middle East are time bombs that can go off at any time.
The international community has just built an unprecedented consensus against terrorism, as well as political resolution to the Syrian crisis. Either task looks daunting without the cooperation of Riyadh and Teheran, as both are key players in the region.
Hence, countries such as the United States, which are influential in the region's political landscape, should step up mediation so that Saudi Arabia and Iran can resolve their differences through diplomatic means.