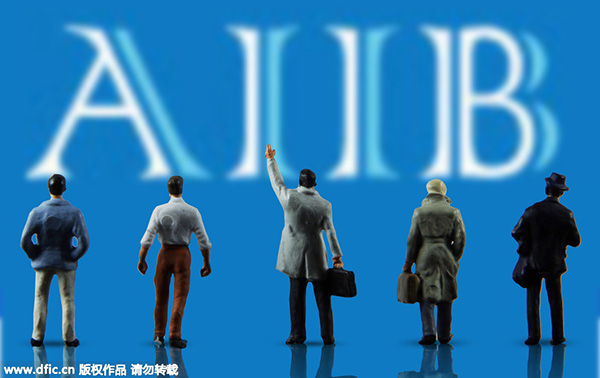 The historic launch of the Asian Infrastructure Investment Bank's operations in the coming weeks has been highly anticipated - and rightly so. With the start of operations, the AIIB will join the family of multilateral financial institutions in supporting broad-based economic and social development in Asia. Sound and sustainable infrastructure investment will lead to better development outcomes, improve the lives and livelihoods of Asia's citizens, and generate positive spillover effects in other parts of the world.
Over the past year, meeting with people from around the world and various walks of life, I have frequently been asked to explain why another multilateral development bank is needed, and how the AIIB will be different from, say, the World Bank or the Asian Development Bank.
The answers are clear. The role and importance of Asia in the international arena have increased, yet the region faces severe infrastructure gaps and thorny bottlenecks. Asia's infrastructure investment needs have grown exponentially, and the AIIB's resources, quite simply, will increase the pool of multilateral resources available to help meet them.
There is, moreover, ample space for the AIIB to help its members to modernize roads, railways and ports; enhance access to electricity; expand telecommunications services; advance urban planning; and provide clean water and sanitation services. We will do it well. We will do it right. And we will do it collaboratively, as a reliable and complementary development partner.
The AIIB's founding members have a clear management vision: We will set a clear and high bar for organizational performance and governance, by upholding openness, transparency, accountability, and independence as its core institutional principles.
Our charter places direct accountability with the AIIB's management to ensure that these principles become organic values, not simply slogans.
How will we do this? In drafting the AIIB's Articles of Agreement and policy framework, we have worked with a diverse group of international experts to draw lessons from the existing multilateral institutions and from successful private-sector companies. We have held extensive rounds of technical discussions with our shareholders to ensure that the AIIB reflects its owners' goals and aspirations in both its lending activities and internal operations. I am confident that the bank's policy foundation meets world-class standards. We are now recruiting a top-caliber management team and expert staff to ensure their effective implementation.
In executing our mandate, our shareholders will see to it that the Bank learns from the past and recognizes the possibilities of the future - to do things differently and to do different things. Several of the AIIB's distinguishing features will facilitate this.
For starters, the AIIB's unique ownership and shareholding structures reflect the institution's regional character and provide members with a greater voice in policy direction and decision-making. The rich dialogue among founding members during the development of the AIIB's Articles of Agreement and policy framework attests to our shareholders' strong ownership of, and commitment to, the bank's mandate and mission.