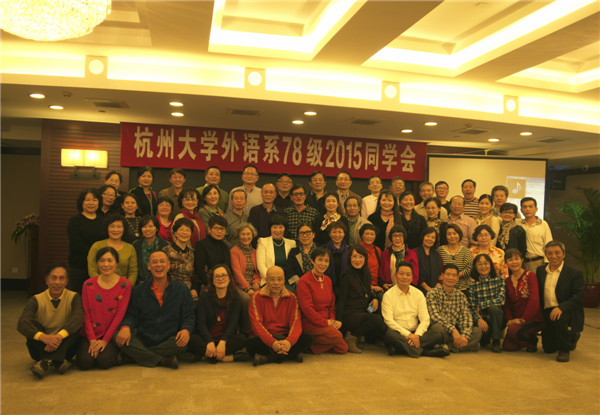 The hasty reunion attracted a third of all members of "78 Ji", which corresponds to "the Class of 82". QIU JIANHUA/CHINA DAILY
Small class
Speaking of class size, I remember we were divided into 12 classes and the class I was in, Class 2, had 22 students. We spent an inordinate amount of time together, not only attending classes but going to movies, picnics and sightseeing as a group. This was possible because there were very few "big lectures" we could elect.
The graduate school in University of California at Berkeley, which I attended a decade later, was about the same size, 270 or so. But for every course I took, I had different classmates, which made the sibling-like bonding impossible.
This and one's age. As a teenager one has very different notions about friendships. Suffice to say, they tend to be more long-lasting. Inadvertent as it might have been, some of them wielded deep influence on me in shaping my personality and my aesthetics in my formative years. And I'm forever thankful.
The biggest jolt is the change in appearance, or the lack thereof in some cases. One classmate who used to look like a rock star, lean and almost gaunt, now has taken on the physique of a respected professor. Overall, we men have aged 33 years, give or take, while women seem to have matured at about half the rate.
A major surprise is girls from Suzhou, who have retained their youthfulness to such a remarkable degree that Hebe, the Greek goddess of youth, must have blessed that city or be hiding among its canals and gardens.
Another revelation is the loyalty in employment. Many have been working for one employer all their careers. Some made a few adjustments in the early years of graduation and then worked until their retirement without shifting gears again. To members of the young generation who hop from job to job, we must look doggedly conservative.
The two common jobs among us are teaching and international trade, both of which use our language proficiency. Not only do my schoolmates teach English across China, but a few of them do it in the United States and Africa.