Shanxi University students win national swimming championships
At the 15th national university swimming championships, at Shaoxing Olympic stadium, in the city of Shaoxing, Zhejiang province, Nov 2-6, some Shanxi University students put in an excellent performance.
Taking first place in the women's 400-meter freestyle was Cao Yue, who managed to set a new record of 4 minutes, 14.8 seconds, while the women's 400-meter individual medley went to Chen Zihan, at 4 minutes, 59 seconds.
This year's competition had more than 700 students from about 60 universities across the country taking part.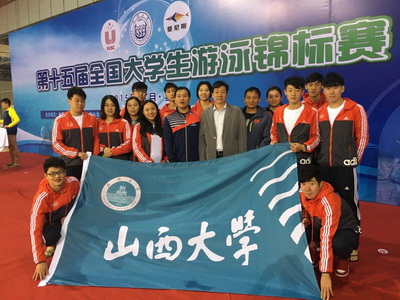 Group photo of students from Shanxi University who took part in the 15th national university swimming championships.
Confucius Institutes

The Confucius Institutes are set up worldwide by the Chinese Language Council International to promote Chinese language and culture.

Enrollment of Foreign Students in Shanxi University

Join us and explore our wide range of study programs and enjoy a first class educational experience that makes you a part of a lively global community.