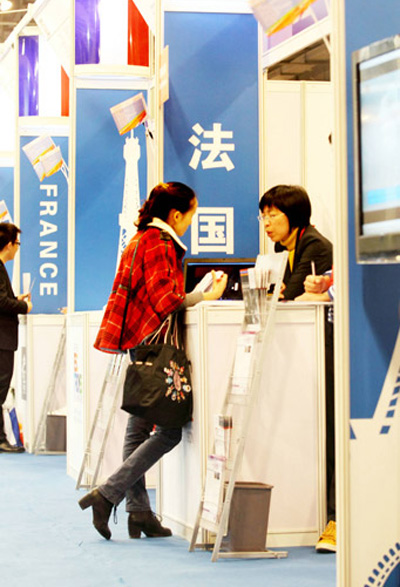 A student visits a booth for details on studying in France at an education fair in Beijing on February 24,2014. [Photo by Lei Kesi/for China Daily]
An education official said Sunday that the Ministry of Education is pushing for the recognition of Chinese national college entrance exam, also known as gaokao, by more foreign universities, Beijing News reported.
Yu Jihai, deputy director of the international department of the Ministry of Education, said the plan is already underway although it will still take time before any results will be seen.
He said regular cultural and education exchanges between China and Russia, the US and the EU can be used to promote the acceptance of gaokao results by their universities.
An education action plan that goes along with China's Belt and Road Initiative is also brewing in the ministry to beef up the opening up of China's education.
Millions of Chinese students sit the gaokao every year but only a select few enter the top domestic universities. An increasing number of them are choosing to study abroad.
Many overseas universities already accept the test scores of gaokao to woo Chinese applicants.
Up to 60 percent of colleges and universities in Australia now accept gaokao results after the University of Sydney led the way in 2012.
Earlier this year, the University of San Francisco announced Chinese students applying to the university will only need to submit gaokao scores with no additional tests required.