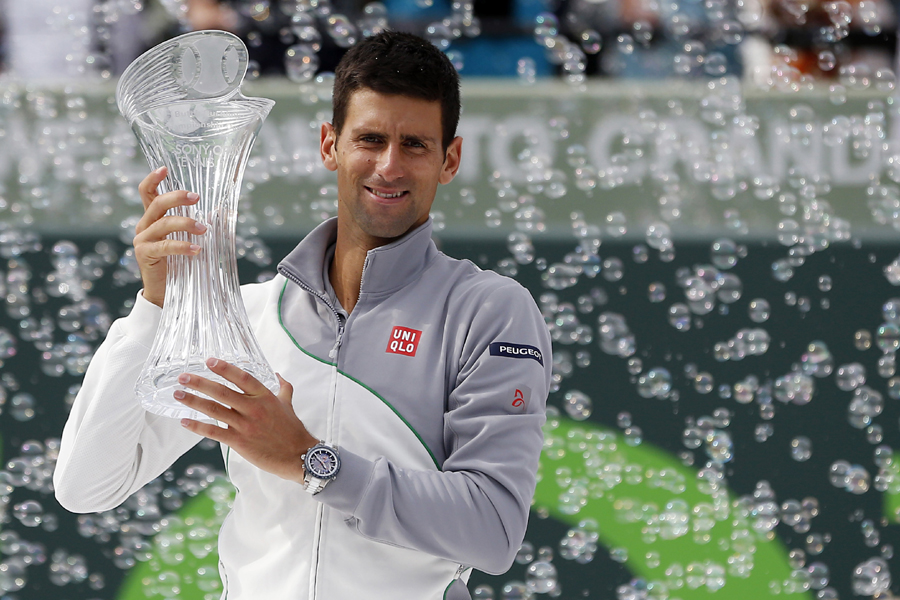 Novak Djokovic celebrates with the Butch Buchholz Championship Trophy after winning the men's singles final of the Sony Open at Crandon Tennis Center over Rafael Nadal (not pictured), Miami, March 30, 2014. Djokovic won 6-3, 6-3. [Photo/Agencies]
MIAMI - Novak Djokovic tamed world number one Rafael Nadal 6-3 6-3 to claim his fourth Sony Open title on Sunday, denying the Spaniard a maiden win on the Miami hardcourts.
The win was the second straight Masters series title for the second ranked Serb, who defeated Roger Federer in the BNP Paribas Open two weeks ago in Indian Wells.
"That was a great confidence boost for me that I carried on in this week, and this tournament has been perfect from the beginning to the end," said Djokovic, after hoisting his 43rd career title.
"The matches that I have played I played really well, and I elevated my game as the tournament progressed.
"The best performance of the tournament came in the right moment on Sunday against the biggest rival."
The world's top ranked players added another line to what has grown into one of tennis's great rivalries with the Spaniard holding a 22-18 edge.
But the Miami title continues to be one of the few to elude Nadal, who has now finished runner-up four times at Crandon Park, twice beaten in the final by Djokovic.
"Miami is the same level as Indian Wells, same level as Cincinnati, Toronto, Monte Carlo, Rome, Madrid," said Nadal when asked to explain his inability to hoist the Miami trophy. "The quality of the tournament is Masters 1000 that I won 26, so I cannot have a mental block on that.
"No, no frustration. That's tennis. That's the sport."