Argentina beats T and T in warm-up, 3-0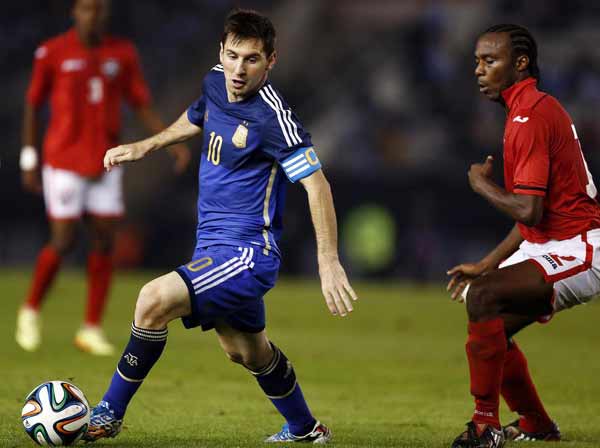 Argentina's Lionel Messi (L) controls the ball in front of Trinindad and Tobago's Yohance Marshall during their friendly soccer match ahead of the World Cup, in Buenos Aires, June 4, 2014. [Photo/Agencies]
BUENOS AIRES, Argentina - Goals by Rodrigo Palacio, Javier Mascherano and Maxi Rodriguez led Argentina to a 3-0 victory over Trinidad and Tobago in a World Cup warm-up Wednesday.
Argentina dominated Trinidad, a non-World Cup qualifier, from the beginning, but struggled to find the net. Palacio finally did near the end of the first half with a header.
The hosts made it 2-0 after star striker Lionel Messi hit the post with a free kick. Mascherano was in position to send home the rebound.
Rodriguez, a substitute, finished off the scoring on a pass from Palacio.
It was a strong showing for Argentina, one of the World Cup favorites. The Argentines will open the tournament in Brazil on June 15 against Bosnia and Herzegovina, but first play Slovenia in a friendly on Saturday.
Most Popular
Highlights
What's Hot