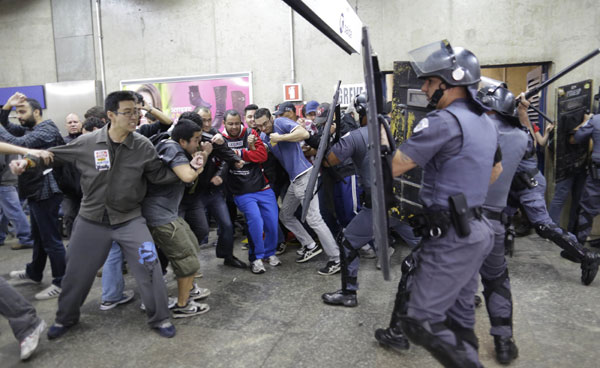 Subway train operators, along with some activists, clash with police at the Ana Rosa metro station on the second day of the metro strike in Sao Paulo, Brazil, on Friday. Nelson Antoine / Associated Press
President Dilma Rousseff has denounced what she called a "systematic campaign" against the World Cup and her center-left government, as a strike by subway workers continues in Brazil's biggest city.
The work stoppage over wage demands has caused massive traffic jams in Sao Paulo for the past four days as the city prepares to host the opening game.
With four days left until kickoff, authorities are hard-pressed to resolve the dispute before more than 60,000 fans descend on the Corinthians Arena for Thursday's game between Brazil and Croatia.
Police, teachers and bus drivers have also held strikes for pay raises in other cities in recent months, and protestors angry at the World Cup's $11 billion bill have staged demonstrations.
The subway standoff led to a clash on Friday between picketing strikers and police inside a metro station, and police dispersed the protesters with riot batons and tear gas.
Officials are bracing for potential protests during the tournament, fearing a repeat of the violent demonstrations that marred the Confederations Cup last year.
World Cup 'politics'
Rousseff hit back at critics late on Friday, charging that there was a movement to derail her Workers Party before October 5 general elections.
"Today there is a systematic campaign against the World Cup - or rather, it is not against the World Cup but rather a systematic campaign against us," Rousseff said in the southern city of Porto Alegre.
She said criticism of government spending on the tournament - notably stadiums in some host cities with no football tradition - amounted to "disinformation".
The president did not say who was behind the campaign but she recalled a 2011 edition of conservative news magazine Veja that sardonically suggested the tournament's 12 stadiums would not be ready for decades.
Rousseff, who was a leftist political prisoner during the 1964-85 military dictatorship, said that even then "we did not confuse the World Cup with politics."
Rousseff has insisted that the money spent on the tournament will leave a legacy of airports and transport infrastructure that will benefit Brazil for years to come.
But much of the other promised train and road projects have been shelved, and several of the 12 stadiums have yet to be finished.
The president's popularity has taken a hit, with an opinion poll on Friday showing that her support for the October election dropped to 34 percent in June from 37 percent in April.
Rousseff still led the pack of candidates, however, with her main rival, social democrat Aecio Neves, falling by one point to 19 percent.