Brazil installs Chinese security systems for Cup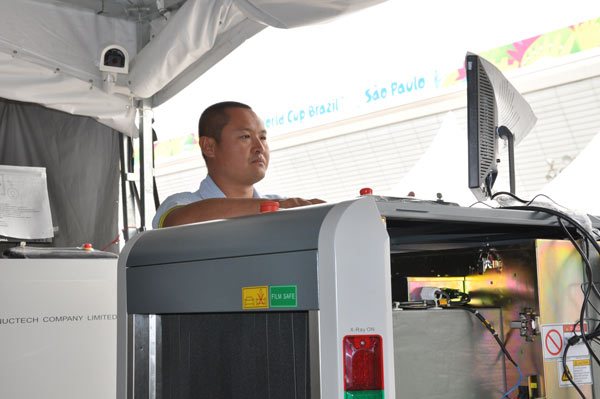 A technician is examining the security inspection facility on Tuesday in Arena de Sao Paulo, the stadium for the opening match for the 2014 FIFA World Cup. Zhang Fan / China Daily
Although a Chinese football team cannot contribute any goals to the 2014 FIFA World Cup in Brazil, China's technology has traveled all the way from Asia to help create a safer World Cup here with its advanced security inspection products.
Beijing-based Nuctech Company just installed a 90 X-Ray Inspection system for the Arena de Sao Paulo, the stadium that will hold the opening match of the 2014 FIFA World Cup.
Besides Arena de Sao Paulo, Nuctech will also provide security inspection facilities for eight World Cup stadiums across Brazil, with a total amount of around 600 pieces of equipment.
"We have many competitors this time but we successfully won the projects of nine out of 12 World Cup stadiums because of our efficiency and quality guarantee," said Chen Yongjian, the general manager of Nuctech's branch office in Brazil.
"Chinese people are hardworking and can provide the best quality with shortest time, this is one of our major advantages and is valued by the world market," he added.
Chen said Nuctech has been preparing for the Brazil World Cup for a long time and provided security inspection equipment for the Confederations Cup in 2013.
"Our cooperation with the Brazilian government during the Confederations Cup was very successful, which gives us confidence in providing even better service for the World Cup. We hope we can also contribute to the Olympic Games in 2016," said Chen.
About 10 experienced technicians of Nuctech arrived in Brazil last week to help set up the facilities. Chen said the Nuctech Brazil branch office, established earlier this year, will continue to provide technology support over the next 10 to 15 years.
"Besides the Chinese technicians, we will also train local technicians and teach them core technologies. This will guarantee our service and also create more job opportunities," said Chen.
Nuctech Company originated from Tsinghua University, one of China's top universities specializing in science and technology. The company focuses on various kinds of security inspection equipment, from X-Ray imaging to radiation detection.
"Our technology in this field is ranked first in the world, especially our Large and Pallet Cargo x-ray imaging inspection system. By the end of this month, we will deliver 11 such pieces of equipment to Brazil which will be established along its border to prevent dangerous items entering Brazil during the World Cup," said Yu Ping, deputy general manager of Nuctech's branch office in Brazil.
Though Brazil aroused strong interests of Chinese companies in recent years, its financial systems especially the tax policies make Chinese investors feel challenged.
"We have entered the Brazilian market for many years through cooperating with local partners and accumulated many experiences, but we still find rather confused with its tax laws," said Yu. "We asked several local law firms but got different answers."
"Nuctech wants to stay in this market so it needs to first get familiar with local cultures and people," she added.
Nuctech has launched four branch offices in Latin America, including Venezuela, Argentina and Brazil. With years of development, the Latin America market has occupied about 11 percent of its total international market.
"The Latin America market has been our main focus these years," said Chen, "Compared with the mature markets in the Europe and the US, Latin America has much more opportunities. We have high expectations for it."
"The reason why we want to show the best of our products during the World Cup and Olympic Games is that we want to establish a good image of our brand, which is a key for our long-term development here," he added.
fanzhang@chinadailyusa.com