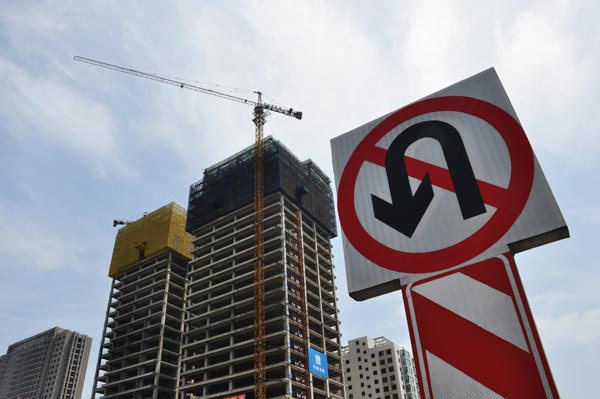 A construction site in Rizhao, Shandong province. Many third- and fourth-tier cities have seen property prices slump recently. [Photo/China Daily]
A recent decline in housing prices is being exacerbated by tightened credit conditions and a surge in the supply of subsidized State housing, as He Na reports.
Chen Xin, who works for an academic institute in Beijing, said he is experiencing the hardest time of his life because the "perfect" house exchange he has spent a long time planning has been ruined by the recent slump in the price of residential property.
Chen planned to sell his house in Lishuiqiao, in Beijing's Chaoyang district, and buy a smaller one in Haidian, closer to his son's school. The new house is 20 square meters smaller than Chen's current home, but costs about 1 million yuan ($160,000) more. Chen planned to sell his house and use the money to pay the lion's share of the cost of his new home while using a bank loan to cover the shortfall
Chen paid a deposit of 200,000 yuan in early March and signed a contract to pay off the remainder within two months. However, just as he and his wife were busy planning how to decorate their new home, property prices began to decline. Their house has now been on the market for more than three months, and they have lowered the asking price three times, from 3.2 million yuan to 3 million, but to no avail.
The owner of the house Chen intends to buy has agreed to extend the payment deadline by two months, but no longer. If Chen fails to make up the outstanding sum by August, the sale will fall through and he will forfeit half of his deposit as a default.
"The dilemma has almost driven me crazy - 100,000 yuan is more than half my annual income, but I can't do anything to reverse the current market downturn," said the 41-year-old.
In desperation he called on friends and relatives for help, but they all told him that the rocky state of the market has prompted people to postpone their purchase plans.
One of the people saving their money is Zhu Hangtian, 30, who works for the Chinese Academy of Sciences in Beijing. He said his parents had planned to buy a house for him as a family investment and in anticipation of his eventual marriage. As a result, Zhu has paid close attention to property-related government policies, news reports and also second-hand house posters.
"The more I learn, the more I believe that it's not very wise to invest in property right now. I may plow the money into other investment options instead," he said.