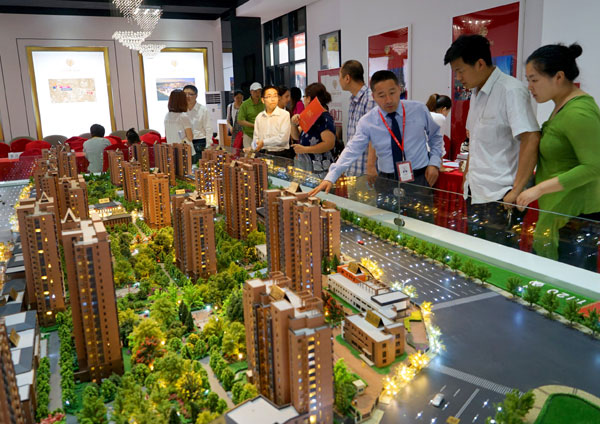 Potential homebuyers inspect models of housing developments in Beijing. Provided to China Daily
"Want an apartment? Then join us at midnight!"
This is only the latest gimmick used by Beijing property developers to attract potential buyers, this one hoping to lure people away from a rival project opening the same day.
With the housing market slumping, developers are making every effort to cash in. Some began to offer such things as more flexible down payments, allowing buyers to make them in six months or even two years. Usually, they are made within one or two weeks.
"Developers are facing increasing credit challenges in the face of shrinking sales, rising inventory levels and weakening liquidity," said Michael Taylor, Moody's chief credit officer for Asia Pacific.
Statistics from real estate Internet portal Soufun showed that a total of 312 apartments were offering discounts in May, up 13.9 percent from the same period last year.
"We anticipate more consolidation in this lackluster market. Major listed developers will outperform in this volatile environment, with their solid financial positions and access to varied financing channels," said James Shepherd, head of research for greater China at commercial property brokers Cushman & Wakefield Ltd.
A case in point is the acquisition by Hong Kong-listed Sunac China Holdings Ltd of a 24.3 percent stake in Greentown China Holdings Ltd of Hangzhou in Zhejiang province. That marked the biggest such acquisition in China's real estate sector this year.
Meanwhile, several developers are making efforts to improve their products.
"We recently received more inquiries from property developers to help them better understand their customers' needs," said Yan Xuan, president of Nielsen Greater China.
Franshion Properties (China) Ltd, the Hong Kong-listed real estate arm under Sinochem Group, for instance, uses green buildings as a core strategy to boost competitiveness.
The company will invest 2 million yuan ($324,000) this year in research and development on green technologies, according to the Franshion's chief designer.
"We did a lot of research on green buildings last year and plan to increase our investment in this field to 2 million yuan this year," said Sun Guodong, Franshion's chief designer.
Shoucheng Real Estate Co, a Beijing-based property developer, plans to develop more three-bedroom apartments and villas in the city's Pinggu district, hoping to attract buyers aiming to improve their living conditions. The project racked up nearly 1 billion yuan in sales last year, thanks to its market positioning.