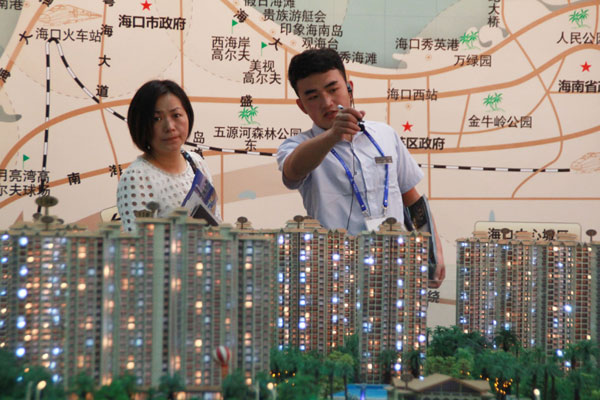 A visitor learns about a housing project at the Hainan Spring Property Exhibition held in Haikou this month. Recent price panics in more and more of China's second- and third-tier cities don't signal the start of any bubble-bursting process generally, according to economist Mike Bastin. SHI YAN/CHINA DAILY
Property prices across China, often seen as a barometer of the overall health of the economy, are once again on the front pages. But this time, a real sense of panic appears to be the main message.
Across more and more second- and third-tier cities, prices have been as much as halved in some cases amid reports of overcapacity and a collapse in demand.
But is this really the beginning of the bursting of a far bigger property bubble across China, or is it simply a reflection of a slightly hasty and badly thought out construction craze outside of China's first-tier cities?
Before attempting to examine this question, it is essential to present briefly the nature of China's miraculous economic emergence over the past 20 to 30 years. Of course,
mas
sive gains in prosperity have been achieved, but such has been the breakneck speed of this advancement in riches that, at this moment in time, an extremely unbalanced level of development is the result.
First-tier cities such as Beijing and Shanghai have enjoyed an unparalleled economic boom in comparison with China's numerous provincial capitals and smaller cities. It must be highlighted here that this is not just a property boom but major development of all aspects of urban infrastructure such as transportation, health and education.
It is still the case that far more than 60 percent of all inbound foreign direct investment is attracted to the top-tier cities and nearby areas.
Career opportunities, especially the more lucrative international business opportunities, remain solely a first-tier city attraction. Average salaries outside first-tier cities rarely reach 50 percent of those inside.
As a result, it is hopelessly misguided and even fatuous to "lump" together one apparently cohesive Chinese property market. As most markets emerge and progress, so does the need for accurate segmentation.
It is, therefore, critical to introduce several economic and infrastructure-related segmentation variables in order to dissect China's property market effectively and assess any extent to which a "bubble" is apparent.