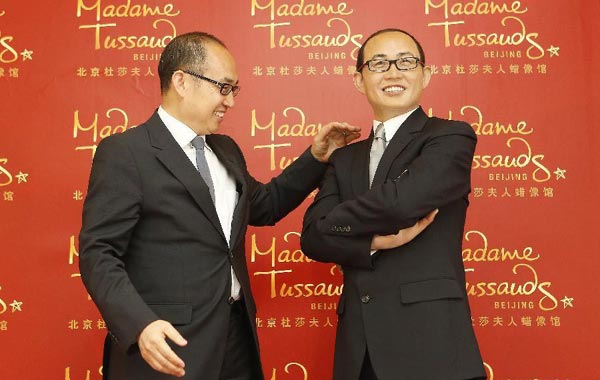 Real estate tycoon Pan Shiyi poses with the waxwork model of himself during an unveiling ceremony at the Madame Tussauds Wax Museum in Beijing, China, April 16, 2014. Madame Tussauds Beijing will open in May. [Photo/Xinhua]
Pan Shiyi, CEO of Beijing's biggest property developer SOHO China, said that China's property market is going to hit an iceberg just like the Titanic, Yicai.com reported on Sunday.
At China Entrepreneurs Forum in Tsinghua University on May 23, he said he does not have high expectations on the residential property market based on three factors:
First, the government has announced regulations on real estate registration, which will increase supply in the market. Second, the implementation of property tax will force holders to give up some of their properties. Third, the suggestion of equal treatment of collective construction farmlands in rural areas and State-owned lands guarantees land supply in Beijing, according to Pan.
All these regulations will contribute to decline in real estate prices in China. And if something happens to China's real estate market, the financial products will suffer the most, he said.
Financial products such as trust fund, the Third Part Finance and the designated deposit all have low credit but high loan interest rate, and property developers prefer these financial products because of high interest rate. However, they have really tight capital chain, which will turn out to be a serious problem when house price fall by 20 to 30 percent, Pan said.
He said the dangers in this industry will surely increase the risks for financial markets in China.