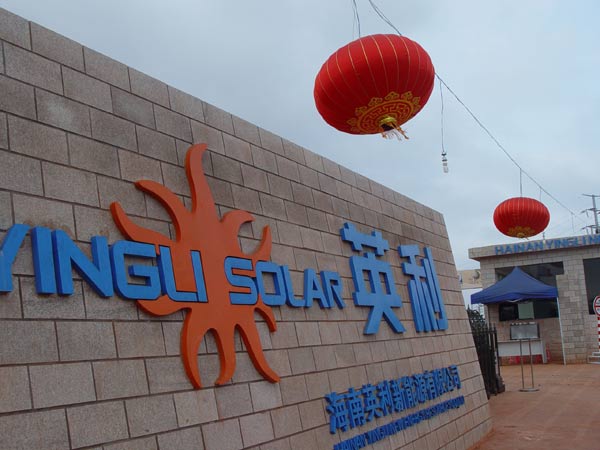 A gate of Hainan Yingli New Energy Resources Co Ltd on May 1, 2010.[Shi Yan /Asianewsphoto]
SHIJIAZHUANG - China's major solar energy company Yingli Green Energy Holding Co will take advantage of the 2014 Brazil World Cup to promote its brand.
Miao Liansheng, chairman of Yingli Green Energy headquartered in the northern Chinese city of Baoding south of Beijing, said the World Cup marketing campaign will be a huge driver of its business growth with market penetration by renewable energy is at low levels.
The boost is anxiously anticipated, particularly at a time when the Chinese photovoltaic (PV) industry is struggling due to excess capacity and high punitive duties levied by the United States and European Union.
It is the second time that Yingli sponsored the world's most widely viewed sporting event. Yingli is also the only Chinese sponsor of the event.
Yingli's relations with the World Cup dates back to 2006 when it provided 1MW of solar installments for the Kaiserslautern Stadium in Germany, said Miao.
As a sponsor of the 2010 World Cup in South Africa, Yingli attracted huge attention as its brand name was showed in stadium advertising broadcast to billions of viewers worldwide. In a week's time, it is set to take to the spotlight again at all 12 of Brazil's World Cup stadiums.
Yingli's advertising will be shown during all 64 matches, for at least eight minutes per match, said Liang Tian, public relations director.
Yingli has provided 27 sets of solar panels to power all stadium lighting masts in the host cities of the World Cup. It has also installed solar power stations in the media centers.
The Maracana Stadium, home to the World Cup final and one of the football's most iconic venues, has 390kw of solar panels which should make it famous for its sustainability initiatives, according to Yingli.
During the World Cup from June 13 to July 14, Yingli will showcase its PV products at the main media center as well as media centers and VIP rooms at the stadiums to show the world the brand image of "Made-in-China" products, Ling said.
Yingli will host some 20 offline activities and also use social media platforms to take advantage of the World Cup.