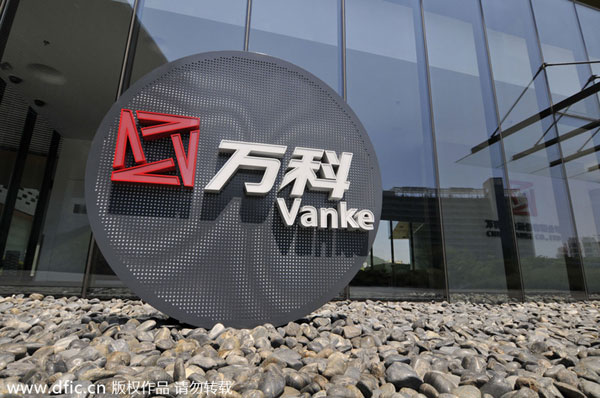 View of the headquarters of China Vanke Co Ltd in Shenzhen city, south Chinas Guangdong province. [File photo/dfic.cn]
SINGAPORE - Ascott, Singapore property major CapitaLand's wholly-owned serviced residence business unit, said on Friday that it has entered into a strategic alliance with Beijing unit of Vanke, one of the largest property developers in China.
Ascott said the strategic alliance is aimed at driving its expansion plans in China.
According to the strategic alliance, Beijing Vanke will leverage its significant presence and expertise to develop serviced residences in China, while Ascott will in turn provide its leading capabilities in managing serviced residences.
Besides, the Ascott also said it had secured contracts from Beijing Vanke to manage two serviced residences in Beijing, which have 355 units in total and will be slated to open in 2017.
Currently, the Ascott has a portfolio of over 10,800 apartment units and 60 properties across 20 Chinese cities.
The Ascott already manages two properties for Beijing Vanke.
It had said earlier that it is on track to achieve its target of 12,000 apartment units in China by 2015.
"China remains our key growth market. Besides expanding through management contracts and investments, strategic alliances with leading developers like Vanke will enable us to combine our expertise and industry knowledge to create a mutually beneficial partnership for both Ascott and Vanke," said Kevin Goh, Ascott's managing director for North Asia.
"In China, Ascott will continue to seek opportunities in gateway cities and high growth cities with strong demand for serviced residences," he added.
CapitaLand realigned its operations into the four main business units of CapitaLand Singapore, CapitaLand China, CapitaMalls Asia and the Ascott Limited after Lim Ming Yan took over as president and chief executive officer at the start of the year.
China is one of the core markets of CapitaLand, with targets of five city clusters, namely Beijing and the neighboring Tianjin in the north; Shanghai and several neighboring cities in the east, also known as the Yangtze River Delta; Guangzhou and Shenzhen in South China; Chengdu and Chongqing in the Southwest China; and Wuhan in the Central China.