Star forward says China failed to take advantage of 2002 World Cup efforts
Editor's note: Soccer is the world's No 1 sport, and China has its own aims for the game. President Xi Jinping has spoken about his soccer dream: China reaching the World Cup, China hosting the Cup and, ultimately, China winning the coveted trophy. However, China still lags far behind in the soccer world. The 2014 Brazil World Cup is just around the corner and we have selected 11 key figures from around the country to tell us about their soccer dreams. The interviews will be on RTHK Putonghua Channel at 4 pm on Sundays through June 8.
Sitting on his couch, Hao Haidong, the former top striker in Asia, speaks the same way he played in his heyday: with passion ... and straight to the point.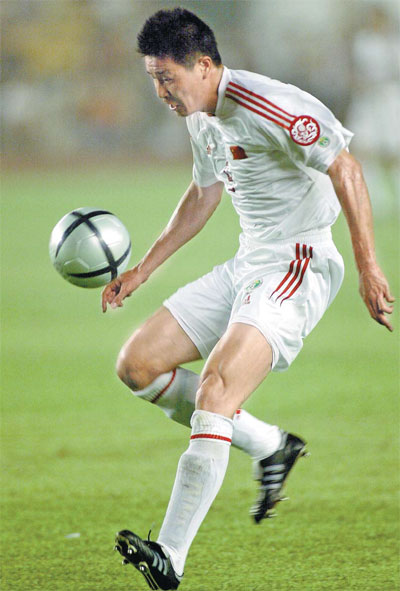 Chinese striker Hao Haidong controls the ball during the opening game of the 2004 Asian Cup at Worker's Stadium in Beijing. Frederic J. Brown / Agence France-presse
Since his retirement, Hao has become a full-time businessman. But soccer remains the love he cannot forsake. In 2007, he returned to the game as manager of Tianjin Songjiang Football Club. He has now left that post and is waiting for new opportunities to "do something for Chinese soccer".
To many, 2013 was a year of great success for Chinese soccer as Guangzhou Evergrande won the country's first Asia Champions League title. The trophy seemed to rekindle the nation's passion for the game and millions of fans from almost every corner of the country joined in Evergrande's success.
But not Hao.
"Yes, this is no doubt a major achievement, especially during this long-time depression of Chinese soccer. People should respect Evergrande, but do not hype the victory," Hao said.
"One should know that soccer is always regional. Guo'an represents Beijing, Shenhua is Shanghai's pride, Evergrande is only a team from Guangzhou.
"You cannot imagine a River Plate fan (in Argentina) cheering for a Boca Junior's win, no matter if it is for the world championship.Dario Conca knows this well."
Conca, the 2013 Chinese Super League Player of the Year, expressed the same sentiment before the Argentine left China.
"Evergrande is only a club and not the national team and you should remember that," Hao said. "It is especially unreasonable when some accuse fans from other cities of not supporting Evergrande.
"Actually, we are doing the opposite. We unite always for the wrong reason.

"At many major national team games you see the banners of fans from city A, city B, county C and village D; sometimes they even appear with different colors, but that should be the time to see a sea of red in the stadium. We have put the cart before the horse."
The topic naturally reminded him of his, and the nation's, only World Cup experience in 2002, when he and his teammates fought all the way into the finals only to suffer three straight losses. The then official plan - "One goal, One point, One win" - has become a lingering joke in Chinese soccer.
People still mock that team now, but Hao thinks it did its best under the circumstances and should not be held totally to blame for its poor performances.
"That was the summit of world soccer. You will never really know the feeling unless you step onto the pitch, no matter how professional you are and how well you know the game," Hao said.
"I said back in 2001 that we would win a berth at the World Cup due to our competence."
But when China finally qualified, ever-optimistic Hao was not satisfied.
"When water flows, a channel is formed, everything happens naturally. The whole country seemed thrilled I was not."
That first game of the finals against Costa Rica still haunts him.
"If everything had gone well, we would not have lost," Hao said. However, what he laments most is not losing those three games at the Cup, but failing to pass on that rare knowledge to the next generation of players.
"We failed to pass on the legacy," Hao said. "The experience was unique. We - the team and all the parties involved - all made mistakes ... the most important thing was to learn from them. But now, if you ask me what Chinese soccer learned from 2002 - nothing!
"It seems like everything went with the Wulihe Stadium (where Hao and his team defeated Oman to qualify for the 2002 World Cup in Korea and Japan)."
The darkest times for the game here arrived soon after the World Cup as match-fixing, insider deals and systematic corruption started to erode China's soccer. Twelve years later, the Chinese national team struggled to qualify for the Asian Cup.
The Chinese Football Association's efforts to develop the game also deeply disappoint Hao. A number of five- and 10-year plans have hit the headlines over the past few years, but little has come from them.
"We have tried to learn from so many countries, from England and Germany to Brazil and Spain, even Japan, but we failed to learn their core value," Hao said.
"For instance, the Japan Football Association even has friendlies fixed two years ahead of time. That is the right way to do business."
Soccer officials here never seem to see the real gap China has to bridge, he said.
"The JFA has its 50-year plan, thus it never puts all its resources into one single tournament. And the English Football Association has existed for more than a century - these figures count," Hao said,.
"It is not too late for China if we set a direction now; 15 years later we may see change.But first, give a chance to those who really understand soccer."
Hao's son, Runze, 15, is now a semi-pro player in Spain. Hao said he won't put pressure on the teen and that he only wants him to learn life lessons from the game, like how to to deal with people and how to be a winner.
"Growing up with soccer, he will become a real man - that is far more important than anything else," Hao said.
For the 2014 World Cup, Hao admits it is difficult to support any of the teams after China failed to qualify. But he will still watch the games to observe the trends of world soccer and, especially, the performances of Japan and South Korea.
"We are similar, if they succeed, I will see that as a stimulus. Keep working and someday we will also be able to reach that height," Hao said.
Recently, Hao's name was linked to the coaching staff of the national team. He said he was approached, but things didn't work out. Now he's looking to do something full-time to help enrich China's youth soccer at the national level.
"Helping young people realize their soccer dreams is my dream," Hao said.
Q&A
You have said there are two kinds of soccer in the world - soccer and Chinese soccer. What is the difference?
Let me give you some examples. Back in the '80s, one header into the net was worth two goals in our national league. I want to ask, if I can score with my butt, how many goals can it be? Six?
A 12-minute run and then later the Yoyo test. Why does a soccer player have to get his working permit through a long-distance running test? Are we mules or horses?
During my career, almost every Jan 1 and Lunar New Year's Day were training days. Would I be twice as strong after that day's training? I dared to openly speak out at that time, but the people's responses were always "Haidong, please don't say it when the officials come."
What would you like to say about how often we change our officials and coaches? It seems like every new boss likes to sweep any legacies and start his own new era.
I just don't get it. For instance, I played in four separate World Cup qualifications from 1992 to 2004. From the Bobby Houghton era (1997-99), I kept telling the officials: please, do not change, give him some time. No one believed me. I remember we defeated Japan and South Korea in the East Asian Cup, and the team started to digest his tactics and strategies. But soon he was fired.
Bora Milutinovic was next. After qualifying, we lost all three games at the World Cup finals. The so-called 'failure' caused the termination of his contract. Then we chose Arie Haan and were runner-up in 2004 Asian Cup. He got the best result for China in the history of the tournament. However, in the following World Cup qualifiers, the CFA used him as a scapegoat for the stupid mistakes made in the last game. Deja vu, Haan was off. And there was more! After that we even appointed "double head coaches". That was beyond ridiculous.
Maybe because there is a Chinese saying that goes 'Adversity gives rise to the desire for change'?
This is the wrong mindset and has lingered for years. Take a look back at what happened over the past 20 years in our game. Only if we get back on the right track will we see a rise in Chinese soccer.
luisliu@chinadailyhk.com