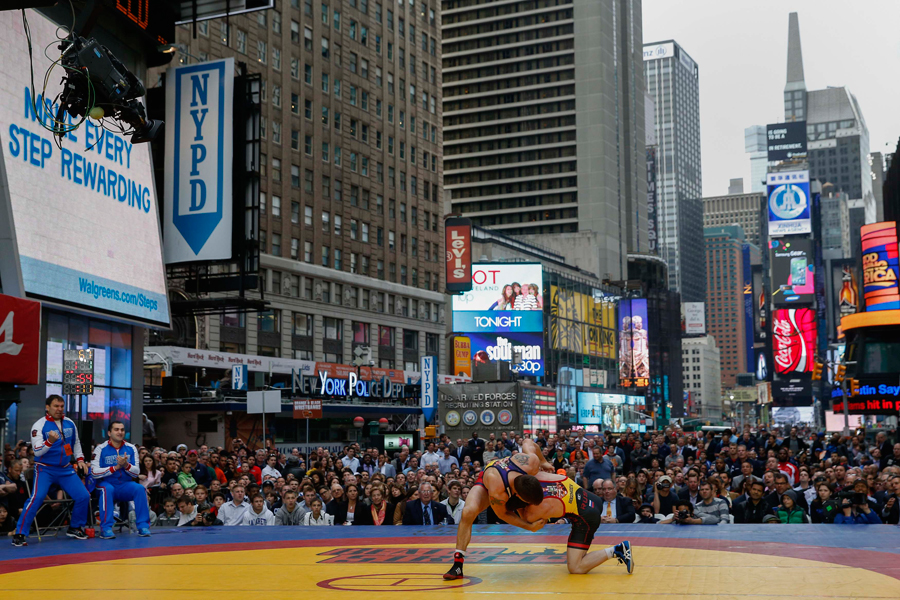 US wrestler Jimmy Kennedy, left, wrestles Aleksandr Bogomoev of Russia during the Beat the Streets international wrestling competition at Times Square in New York May 7, 2014. [Photo/Agencies]
NEW YORK - High above the temporary wrestling mat in Times Square, the news scrolled across a video screen about Russian troops pulling back from the Ukrainian border.
Russian wrestling great Khadjimurat Gatsalov felt none of that tension Wednesday when he took on an up-and-coming American. He later thanked the fans for their warmth toward the Russians who represented the international team in the outdoor competition.
"Politics doesn't affect the sport," Gatsalov said through a translator.
"Anything going on," he added, "it's not going to ever affect the sport."
The US team won eight of the 11 matches in the third wrestling competition held in Times Square to benefit nonprofit Beat the Streets. Last year's event took place at Grand Central Terminal, when top American, Russian and Iranian wrestlers competed in a show of unity to try to keep the sport in the Olympics.
Four months later, the IOC voted in favor of wrestling.
The tweaked rules encouraging more scoring, which were part of the sport's bid to stay in the games, were on display Wednesday. Reigning Olympic gold medalist Jordan Burroughs, a New Jersey native, beat Russia's Atsamaz Sanakoev by fall at 74 kilograms.
"I had to put on a show," Burroughs said of the rare chance to compete in front of family and friends.
Gatsalov, a five-time world champion, defeated American teen Kyle Snyder 6-3 at 97 kilograms. Gatsalov, now 30, won an Olympic gold medal a decade ago in Athens. Snyder, a dozen years younger, is the 2013 junior world champion.
A Ukrainian wrestler, Alina Makhinya, also took part. The 2013 women's world champion lost 11-5 at 69 kilograms to Randi Miller, the 2008 Olympic bronze medalist.
In the other matches, David Taylor beat Yabrail Hasanov of Azerbaijan 6-0 at 74 kilograms. Jordan Oliver defeated Boris Novachkov of Bulgaria 4-1 at 65 kilograms.
Brent Metcalf beat Magomed Kurbanaliev of Russia 11-9 at 65 kilograms. Ed Ruth defeated Taymuraz Friev of Spain at 86 kilograms with a 10-0 tech. Jimmy Kennedy edged Alexander Bogomoev of Russia 2-1 at 61 kilograms. Helen Maroulis beat Venezuela's Marcia Andrades at 55 kilograms.
Haislan Garcia of Canada topped Logan Stieber 6-2 at 65 kilograms. Georgi Vangelov of Bulgaria beat Nahshon Garrett 5-4 at 57 kilograms.