Wrestling claims back Olympic Games spot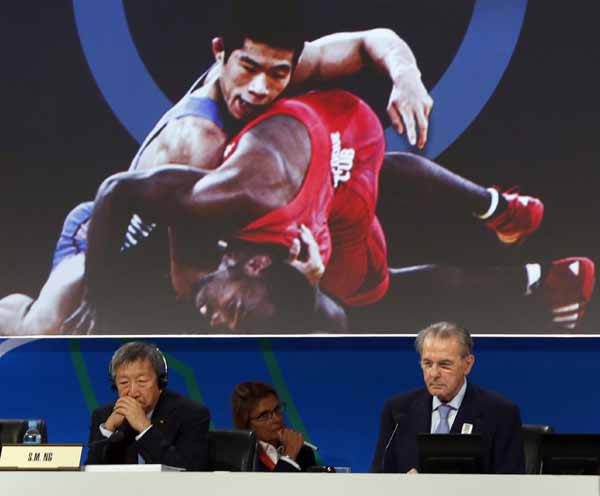 President of the International Olympic Committee (IOC) Jacques Rogge (R) listens to the presentation of wrestling to be included as an Olympic sport next to committee member Ng Ser Miang in Buenos Aires September 8, 2013. The International Olympic Committee will vote to include one additional sport to the program of the 2020 and 2024 Games.  [Photo/Agencies]
BUENOS AIRES  - Wrestling completed an unprecedented comeback on Sunday, reclaiming its spot in the 2020 Olympic Games after beating bids from rivals squash and baseball/softball in an International Olympic Committee vote.
An iconic Olympic sport, wrestling featured in the ancient Olympics as well as every modern Games apart from 1900.
Yet it surprisingly lost its Olympic spot in February as the IOC looked to refresh its programme.
It is the first sport to earn back its Olympic place immediately, with all other returning events taking years or decades to make a comeback.
"Normally this is done in a few years, we did it in a few months. It was a question of our survival," a delighted international wrestling federation (FILA) president Nenad Lalovic told reporters.
As the latest Games entrant, wrestling is the only sport to be guaranteed a spot until the 2024 Olympics, with the 27 others up for review in 2017.    
"We did all we could, we changed our sport and the federation was successful. We continue to work tomorrow."
Lalovic had said in his presentation to the IOC prior to the vote that "today is the most important day in the 3000-year history of our sport".
The burly Serb had taken over in February after their Olympic exit and had been credited with bringing the sport back into contention after it made a shortlist of candidate sports in May.
"With this vote, you (the IOC) have shown that the steps we have taken to improve our sport have made a difference," he said adding more changes were in store for the sport, including the entry of athletes and positions of officials.
"I assure each of you that our modernisation will not stop now. We will continue to strive to be the best partner to the Olympic Movement that we can be," he said.
Sensational Comeback
Sunday's result marks a sensational turnaround for the sport which overhauled its rules, administration, gender equality policy and operations following its shock exclusion.
The IOC had said at the time, wrestling had failed to modernise, becoming complacent over decades amid waning interest.
"It was clear the IOC Executive Board made a mistake by getting rid of it," IOC member Richard Pound told Reuters Television. "Today we corrected that mistake."
Pound said he hoped the two other sports that failed to make the cut could somehow still feature at Tokyo 2020, after the Japanese capital was chosen on Saturday as the host city.
"The two are terrific international sports. My guess is in a host city like Tokyo, they (IOC) could take both," said the Canadian member.
The IOC will elect a new president on Tuesday to succeed Jacques Rogge, who is stepping down after 12 years.
All six presidential candidates have said the Games should not necessarily have a cap of 28 sports and more could be added by reducing disciplines.
The IOC have emerged from this process with a black eye after setting out to refresh the programme only to bring back a sport that was already in the Games.
"We are now back where we started," said Pound.  
Wrestling, which had received glowing support from IOC members, who were stunned by the Executive Board's decision, won an outright majority of votes in the first round.
"Now we must remain united to make certain we live up to the expectations that have been placed on all of us by virtue of this vote," Lalovic said.
The sport got 49 of 95 votes, with baseball/softball earning 24 and squash landing 22 votes from the IOC members.
The result was crushing news for both of the other sports that have been trying to win a spot in the Games for as much as a decade.
<<!-- iscomment为1标示该文章可以评论 -->