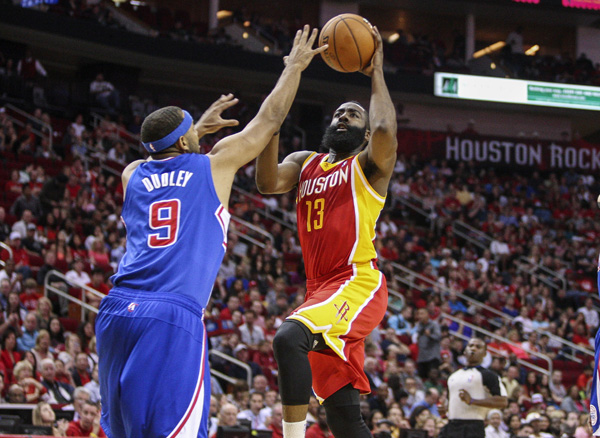 Houston Rockets guard James Harden (13) drives the ball to the basket during the first quarter as Los Angeles Clippers forward Jared Dudley (9) defends at Toyota Center.
  [Photo/Agencies]
HOUSTON - The Houston Rockets lost to the Los Angeles Clippers 107-118 Saturday night at Toyota Center, which ended their 11-game home winning streak.
The Rockets opened the game strongly, particularly in offense, even without Dwight Howard who sat out with a strained ankle and Pat Beverly who had a torn meniscus in his knee. They enjoyed a lead as much as 15 points early in the second quarter. And it appeared then they were winning.
But it was Chris Paul who turned around the table. The Clippers ran off a 22-5 run to regain the lead. Paul scored 17 of the Clippers' 38 second-quarter points.
The Rockets were within three at halftime. They fought back in the second half and had opportunities to turn over the game. They were within seven 3:20 remaining, but James Harden missed on a drive and a pair of 3-pointers, Chandler Parsons missed a 3-pointer and the Clippers easily pulled away.
Paul led the Clippers with 30 points and 12 assists. Jamal Crawford had 22 points. DeAndre Jordan added 20 points with 12 rebounds. Harden scored 32 points for the Rockets, and Parsons had 28.
The defeat also snapped Houston's five-game straight winning streak. The host team is 49-23 on the season while the Clippers is 52-22.