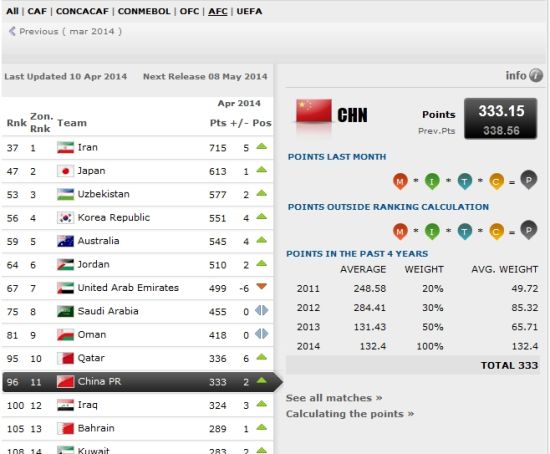 A screen grab of the latest FIFA ranking shows China holds the 333th, up two places.
ZURICH - Portugal rises to No 3 in the latest FIFA rankings and fourth-ranked Colombia now leads the South American nations.
World and European champion Spain remains top, ahead of Germany. Uruguay rises one place to No 5.
World Cup host Brazil is tied for No 6 with traditional rival Argentina, which drops three places.
Though no top team played last month, the rankings movement is caused by earlier results in a four-year cycle of matches having less value.
Switzerland, Italy and Greece, rising three places, complete the top 10.
United States rises to No 13 after drawing 2-2 with No 19 Mexico.
Cote d'Ivoire, at No 21, leads the African nations.
Iran is the highest-ranked Asian confederation team at No 37, followed by Japan, Uzbekistan and South Korea.
China holds the 333th, up two places, but slid to No 11, from the previous the 10th ranking, among Asian coutries.
Australia at No 59 is the lowest-ranked World Cup team.
FIFA Rankings List
1. Spain (1)
2. Germany (2)
3. Portugal (4)
4. Colombia (5)
5. Uruguay (6)
6. Argentina (3)
(tie). Brazil (9)
8. Switzerland (7)
9. Italy (8)
10. Greece (13)
11. England (12)
12. Belgium (10)
13. United States (14)
14. Chile (15)
15. Netherlands (11)
16. France (17)
17. Ukraine (18)
18. Russia (19)
19. Mexico (20)
20. Croatia (16)