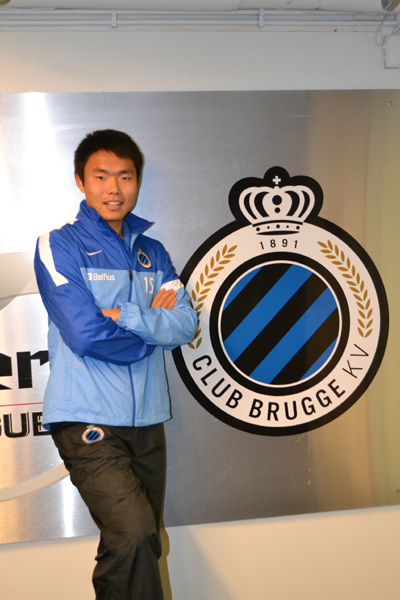 The 20-year-old forward Wang Shangyuan signed a three-year contract with Club Brugge, one of Belgian's best clubs. [Photo provided for China Daily] 
Ambitious young soccer player from countries that are not major soccer powers can struggle to gain recognition from top European clubs. But it can be done. All it requires is for a coach at one of those clubs to spot your natural talent, and if he has an open mind you might get your chance.
Even now, 19-year-old Wang Chengkuai does not know exactly what his idol, Dennis Bergkamp, the legendary Dutch former international, Arsenal star and now assistant manager at Ajax, saw in him during his trial.
"Maybe he just saw my hunger (to play here)," Wang says.
Ajax, four-time winners of the European Cup/European Champion League, is based in Amsterdam and is renowned for its junior academy, where it hothouses talented young players from around the world.
Wang was recommended for a trial by former Ajax coach Henk ten Cate, who worked in China in 2012.
But although Wang has impressed Bergkamp with his abilities as a second striker in the reserve team, that is where he has remained.
Nevertheless, Wang is still determined to forge a successful career in European soccer.
"Even if I develop into one of China's best players, I will still be far from world-class," he says. "What I really want is to play in Europe, among the world's top footballers."
The 20-year-old forward Wang Shangyuan, who signed a three-year contract with Club Brugge, one of Belgian's best clubs, in July 2013, offered a similar sentiment.
"Making money or being famous is not my aim now," Wang says. "I'm still far from being a success."
Wang began his career with the club in spectacular fashion, scoring the first goal in the league in the 2013-14 season on his debut.
A few months before he joined Club Brugge, Wang Shangyuan had a chance to play for one of the most famous clubs in the world, English Premier League giant Manchester City. However, manager Robert Mancini, who admired Wang's talent, was suddenly sacked while Wang was still on trial.
So Wang had to pursue his career in Belgium where he shone in his first few games. But after the coach who had signed him moved to another job, his successor has relied on his experienced players and decided he didn't need Wang.
However, this has not deterred Wang, who knows he has to be patient and keep working on his skills.
Wang says he always remembers what his mentor, Li Hui, a former China international, once told him: "How can you shed tears in the spotlight some day, if you haven't suffered enough to cry?"
A huge amount of investment has been poured into China's football clubs in recent years, but top European clubs are still the peak that the country's young players strive for.
The latest major signing to a European club came last month when French Ligue 1 champion AS Saint-Etienne singed the national under-19 center-forward Xiang Baixu.
Yet Lu Yang, deputy editor of Sina Sports, points out that in recent years most talented young players, who came back from overseas, did not stand out among other local players, and that this might present a challenge to Xiang and Wang Shangyuan.
However, Ke Han, a football commentator, disagrees. "Playing for secondary league clubs as springboards for bigger targets is a sound choice for our young footballers. But they need to understand that contracts are just a beginning."
qiubo@chinadaily.com.cn