Williams blitzes Li Na in showdown between world's two top female players
Miami is one of the favorite stops on the WTA Tour because of the city's hip, youthful vibe, but the final of Sony Open on Saturday was more about the golden oldies as Serena Williams and Li Na took center stage.
As the downtown core was rocking to a techno music festival, out on Key Biscayne at the Tennis Center they were savoring some old time hits as two 32-year-olds slugged it out for the Miami title.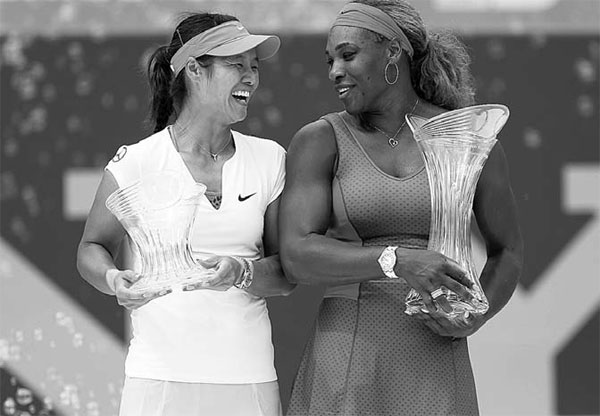 Serena Williams holds the championship trophy as Li Na cradles the runner-up hardware after Saturday's final of the Sony Open in Miami. Williams won 7-5, 6-1. Geoff Burke / USA TODAY Sports
Williams musical tastes may run more toward Mariah Carey, but her play on a sweltering south Florida afternoon was more heavy metal as the world No 1 pounded out a 7-5, 6-1 win over Li to claim a record seventh title on the Miami hard courts.
"I don't know," said Williams, when asked to explain how two 32-year-olds have come to dominate the women's game.
"I just feel that both she (Li) and I, we just have this never give up fight and it just goes to show that you can still shine at any age."
No 1 Williams and No 2 Li have won two titles each this season and sit atop the world rankings as the circuit's young guns scramble behind them.
Li's two wins include an Australian Open title and she has reached the final in Miami and semifinal in Indian Wells. Her loss to Williams was just her third of the season.
With wins in Miami and Brisbane, Williams pushed her career total to 59 titles (50 more than Li) and looks poised for another season of domination with just two losses on her record.
"We are playing great tennis and we are both one and two and we are both the same age," said Williams. "For me, it was just an honor to be there with her.
"We are living the same life and at this stage, to be on top, I don't think it has been done before and I think it is really awesome."
While Williams was at a loss to explain the presence of the duo at the top of the rankings, Li sees it as shift in the game's dynamics with experience and fitness counting as much as technique and youthful exuberance.
"I am a young 32," Li said with a laugh. "I really feel now the tennis has changed a little bit because it is not only about technique. More mental than physical.
"Right now I take more care of myself. I know what I should do already before I come to the court, so maybe this is why these past couple years I have doing well."
Li, who is staying in a downtown hotel in the heart of the Ultra action was asked if she was tempted to join in on the fun, though she laughed at the suggestion.
"No. Come on ... I am too old!" said Li.
"I was thinking about, Oh, so lucky only one night. Otherwise I would leave here.
"Yesterday I had the day off and already in our hotel there were so many young kids with strange dress. One look at them and I was like, 'Wow, we are really old'."
(China Daily 03/31/2014 page23)