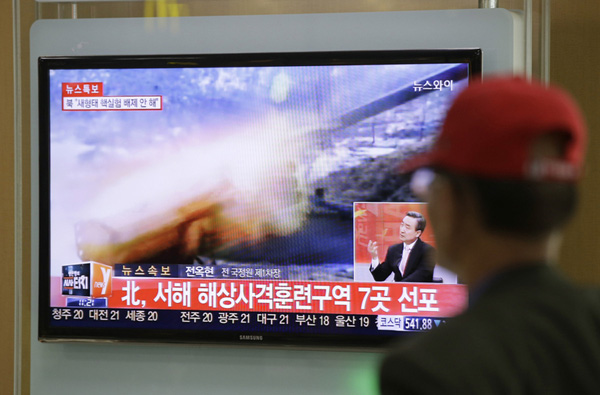 People watch a television news program reporting about DPRK's live-fire drills, at a Seoul train station in Seoul, the ROK, March 31, 2014. [Photo/icpress.cn]
SEOUL - The Democratic People's Republic of Korea (DPRK) and the Republic of Korea (ROK) on Monday exchanged fire into the sea across the western maritime border, Yonhap news agency reported.
The DPRK has fired several artillery shells in waters north of the Northern Limit Line (NLL), or the disputed sea border, amid its live-fire drill started in the morning. Some shells landed south of the NLL into Republic of Korea's territorial waters and Seoul responded with its own artillery fire, according to the Joint Chiefs of Staff (JCS).
The DPRK fired more than 500 rounds of artillery and about 100 of them landed in the water south of a disputed maritime border off the western coast of the peninsula, South Korea's defence ministry said.
The ROK returned fire with more than 300 rounds aimed at an area north of the so-called Northern Limit Line, ministry spokesman Kim Min-seok said, calling the North's action "a test of the South's determination to defend the naval border".
Seoul's army, navy and air force has declared a state of emergency, Yonhap quoted the JCS as saying.
ROK has also evacuated border island residents amid the live-fire drill.
The DPRK declared a no-navigation zone in waters near the western maritime border earlier in the day, banning ships from sailing near the NLL.